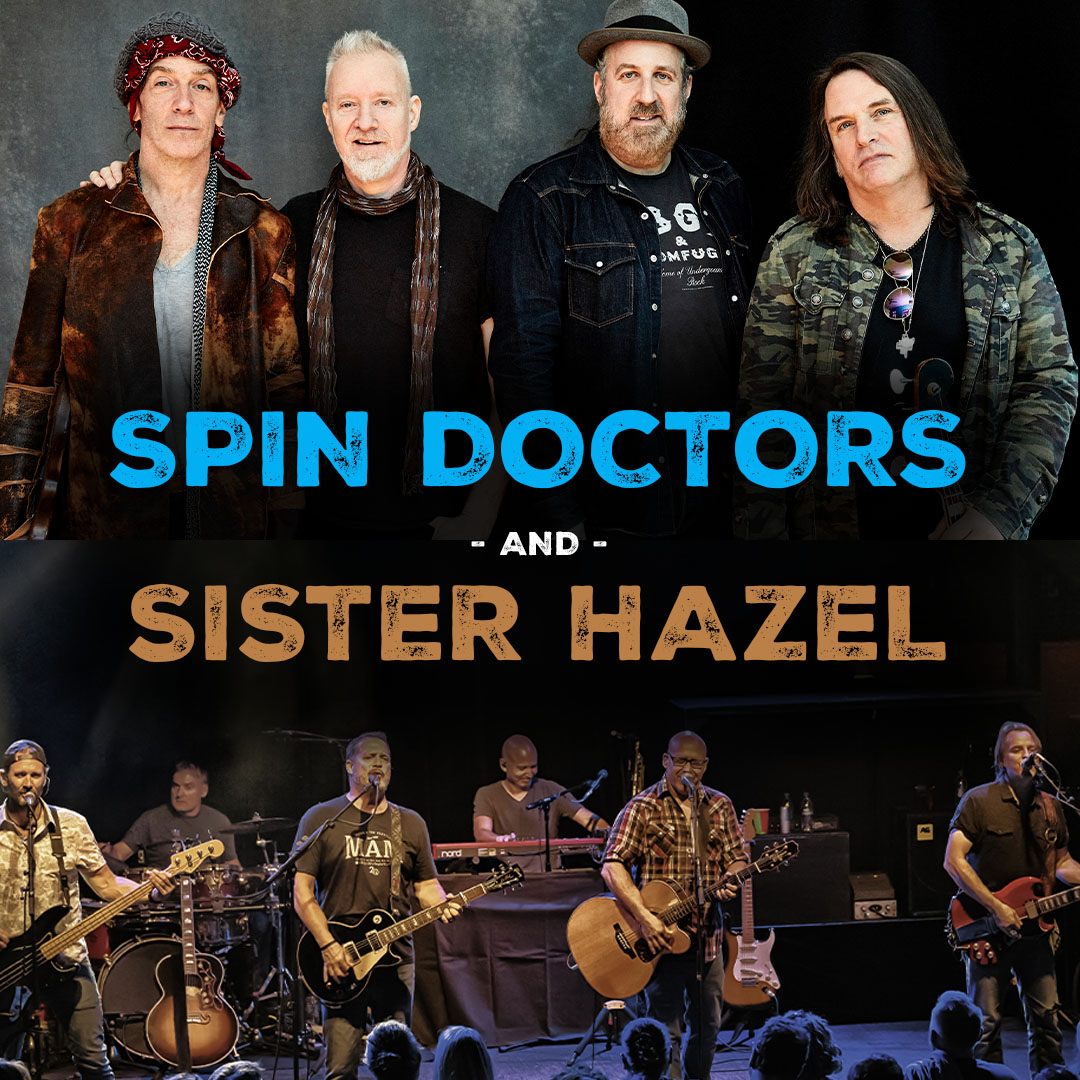 Spin Doctors & Sister Hazel
Thursday, November 2, 2023
Adults
---
7:30 p.m.
PACE CENTER | 20000 PIKES PEAK AVENUE | PARKER, CO 80138
Spin Doctors & Sister Hazel
Millions of albums sold. Thousands of live shows. Massive chart-topping hits like "Little Miss Can't Be Wrong" and "All for You." After 30 years, these two super groups are still making music like their lives depend on it, still riding the bus, and still shaking the room. Join us as the Spin Doctors and Sister Hazel come together for a one-of-a-kind concert event.
ABOUT THE SPIN DOCTORS:
Thirty years. It's an eternity in rock 'n' roll, and a marathon for the bands who fly its tattered flag. Revisit the class of 1988, and the casualties are piled high: a thousand bands that blew up and burnt out. In this chew-and-spit industry, the Spin Doctors are the last men standing, still making music like their lives depend on it,still riding the bus, still shaking the room. They've never been a band for backslaps and self-congratulation. Even now, plans are afoot for a seventh studio album and another swashbuckling world tour, adding to their tally of almost two thousand shows.
12 million + albums sold
Grammy nominated – Best Rock Performance by a Group
Pocket Full of Kryptonite: 5x platinum in US, Canada and Australia, Certified Gold in Germany, UK, Norway and Sweden
Turn it Upside Down: Certified Gold in USA, Canada and UK
Multiple Billboard hit singles including Two Princes, Little Miss Can't Be Wrong, You Let Your Heart Go Too Fast and Jimmy Olsen Blues
ABOUT SISTER HAZEL:
Originating from Gainesville, FL, Sister Hazel is comprised of five gifted, seasoned musicians whose well-spring of natural talent has been called "one of the Top 100 Most Influential Independent Performers of the last 15 years" by Performing Songwriter Magazine.
#1 massive hit "All For You" in 1997
7 Billboard hit singles
11 Billboard charting albums across multiple genres
Over 3 million records sold
Over 3,000 live shows
Multiple appearances on the legendary Grand Ole Opry stage and CMA Music Festival
Over half a billion streams on all platforms
---
General Information
PACE Center Box Office
& Art Gallery Hours
Mon. – Sat., Noon – 5 p.m.
90 minutes before performances 
The Schoolhouse Hours
Mon. – Thurs., 9 a.m. – 4 p.m.
90 minutes before performances
---
Quick Links
---
Ticketing
PACEtickets@parkeronline.org
303.805.6800
Due to fire code and safety requirements, every child MUST have a ticket without exception.
Please note that there are no refunds, credits or exchanges once tickets are purchased.