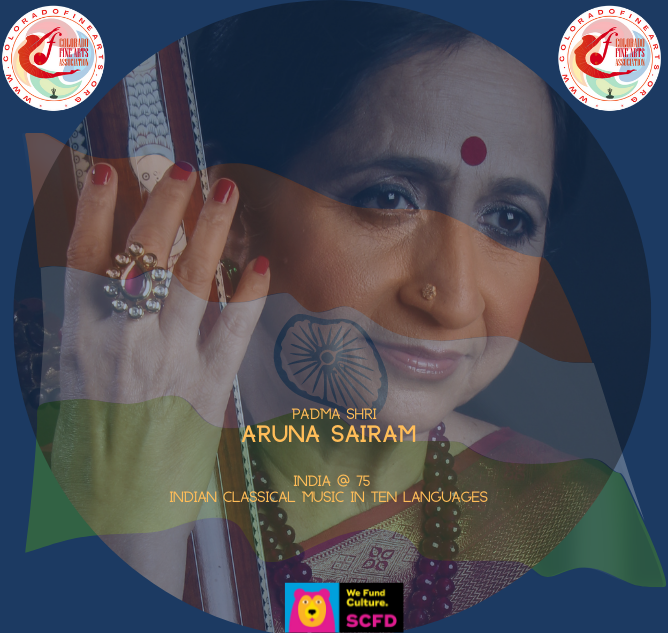 Vande Mataram – Celebrating 75 Years of Indian Independence Through Music
Saturday, APR 9
---
6:30 - 9:00 p.m.
PACE Center
20000 Pikes Peak Avenue
Parker, CO 80138
---
$10 for adults
$5 for students and children under 10
Find Tickets
Colorado Fine Arts Association Presents
Vande Mataram - Celebrating 75 Years of Indian Independence Through Music
At Vande Mataram, CFAA will be presenting the best of Indian classical music as the musicians take a journey through the beauty of  ancient eastern classical music. The artists presented are Padma Shri Aruna Sairam, Gaurav Majumdar, Tiruvarur Vaidyanathan, Amit Kavthekar and Rajeev Mukundan. With two percussions and two
string instruments to support the ace vocalist Aruna Sairam, we expect this event to be a great treat for eastern classical music lovers.
All CFAA patron donors will have their ticket prices reimbursed (up to 4 tickets/ family). Please check the CFAA website for refund information and do not contact the PACE Center. All students and children under the age of 10 are eligible for the $5 tickets. 
As this is a theater rental by the CFAA (and not a Parker Arts presentation), the CFAA requires everyone attending the event to be vaccinated and boosted against COVID-19. If you are not fully vaccinated, you need to produce a negative PCR test certificate tested 72 hours prior to the event. The CFAA recommends that everyone practice safe public behavior during the event by wearing masks whenever possible.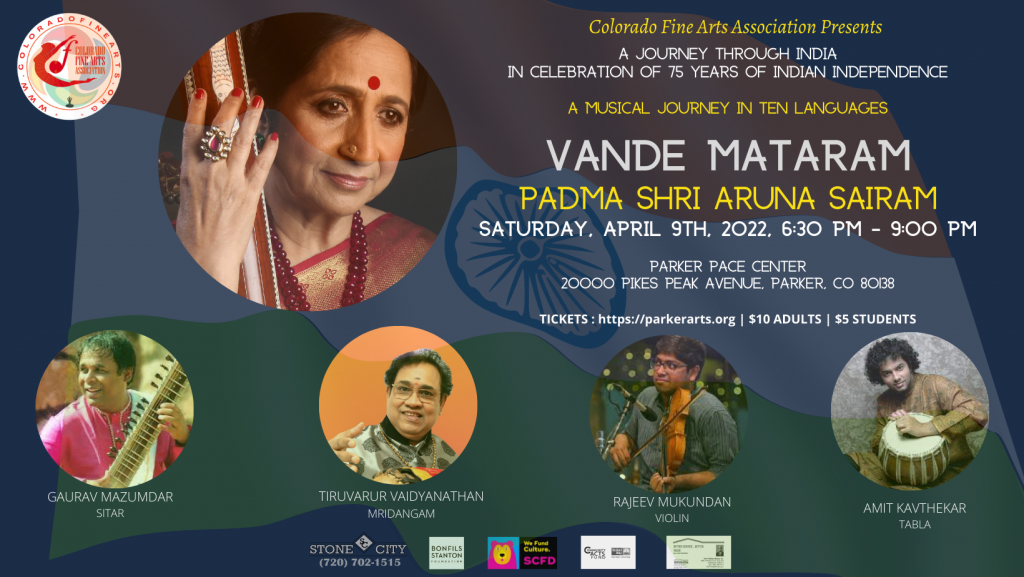 A NOTE ABOUT THEATER RENTALS: The PACE Center is a public venue. As such, the Town of Parker does not have the authority to curate nor censor the messaging of a third-party organization who rents one of our spaces, as long as they are not conducting unlawful activities. The views and opinions expressed by those organizations do not necessarily represent the views of The Town of Parker.
---
General Information
PACE Center Box Office
& Art Gallery Hours
Mon. – Sat., Noon – 5 p.m.
90 minutes before performance through intermission
---
Mask Update
---
Ticketing
PACEtickets@parkeronline.org
303.805.6800
No refunds or exchanges