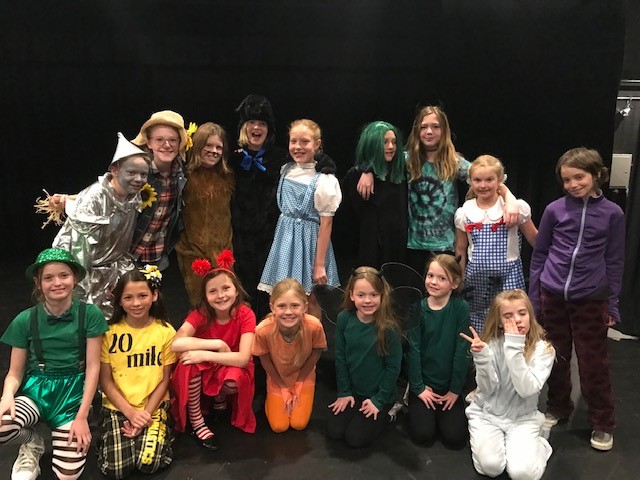 Camp: KidStage Stars What Happened After Once Upon a Time? (#45986)
July 10 – July 14
Ages 6 – 12
---
M – F, 1:00 p.m. – 4:00 p.m.
PACE Center
20000 Pikes Peak Avenue
Parker, CO 80138
---
$300 for Resident
$330 for Non-resident
Register
What Happened After Once Upon a Time?
What really happened after once upon a time? You'll find out in this fun, large-cast, simple-to-stage fractured fairy tale! A substitute narrator is called in on short notice to present stories from a stack of fairy tale books. But just as each tale begins its once upon a time, the main characters show up to interrupt and correct the newbie narrator's telling of their story. Turns out, these characters have hysterical idiosyncrasies: Rapunzel is an insufferable diva, Cinderella is a clean freak, the Three Little Pigs are hypochondriacs, Little Red Riding Hood is a lawyer defending the Wolf, and more. The chaos continues until the frustrated narrator finally breaks down. It's up to the characters to comfort the narrator and explain what really happened after "once upon a time." Wouldn't you know? Everyone lived happily ever after, of course! Campers will perform the show before family and friends at 3:00 p.m. on Friday.
---
Class Code: 45986
Dates: Monday – Friday, July 10 – July 14
Time: 1:00 p.m. – 4:00 p.m.
---
Instructor
KidStage
---
Location
PACE Center
---
Cost of Class
$300 R/$330 NR
Monday, July 10
1:00 p.m. – 4:00 p.m.
Tuesday, July 11
1:00 p.m. – 4:00 p.m.
Wednesday, July 12
1:00 p.m. – 4:00 p.m.
Thursday, July 13
1:00 p.m. – 4:00 p.m.
Friday, July 14
1:00 p.m. – 4:00 p.m.