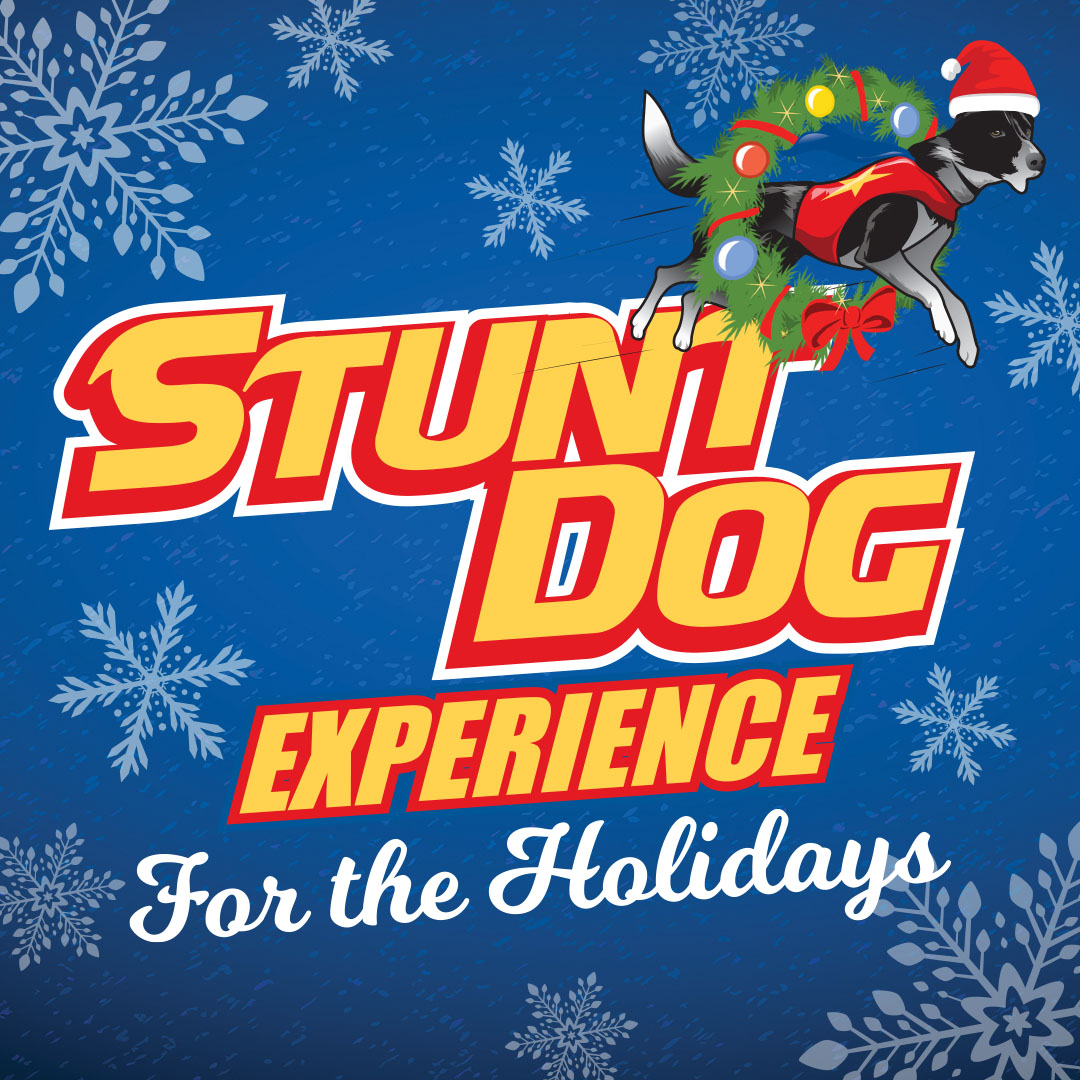 Stunt Dog Experience for the Holidays
Sunday, November 26, 2023
All Ages
---
2:00 & 6:30 p.m.
PACE CENTER | 20000 PIKES PEAK AVENUE | PARKER, CO 80138
Stunt Dog Experience for the Holidays
Rescued from pounds and shelters across the country, Chris and Suhey Perondi's famous stunt dogs will soar, spin, jump and fly in this high-energy, interactive show that's fun for all ages! Join us for an unforgettable holiday experience with the most talented dogs you'll ever meet.
ABOUT
Chris Perondi (aka the Stunt Dog Guy TM) and wife Suhey Perondi, along with their famous stunt dogs are out of this world! The Perondis are master dog trainers and have been entertaining audiences of all sizes since 1999. They have produced over 10,000 live shows since the birth of the show using positive training methods. Over 5,000 have been stage shows for performing arts theaters and for major theme parks, such as: Silver Dollar City in Branson (MO), Dollywood (TN), Stone Mountain Park (GA), Worlds of Fun (MO), Valleyfair Theme Park (MN), Knotts Berry Farm (CA), Carowinds (NC) and Six Flags of America (MD).
The Perondis and their cast of human performers and dogs will delight audiences of all ages. They guarantee high-energy excitement from beginning to end. During this "Stunt Dog Experience" you will witness some of the most incredible stunts and behaviors ever performed by dogs. The experience has amazing tricks, big air stunts, comedy antics, dancing dogs, athletic feats, and is the most entertaining show of its kind.
You will meet a cast of delightful performers along with up to two-dozen talented pound pups. The show is truly unique and brings forth pet adoption awareness. All the dogs have been rescued from pounds and shelters from across the country. Their mission is to promote animal rescue, pet adoption, encourage spay & neutering, and encourage people to spend more time with their pets. The Perondis are also authors and their first book is now available worldwide titled, "The Big Book of Tricks for the Best Dog Ever".
Don't forget "Diggy the Dog TM" the human sized canine mascot! Diggy is always trying to be a part of the show in some silly way. He will try to convince everyone that he is the real star of the show. During the process you will laugh as he tries his paws at jumping rope like the four legged stars. He will also beg to do the Perondis famous daredevil stunt. Can Diggy jump as high as the four-legged stunt dog? – – – You will soon find out!
Every show also includes interactive crowd participation. It's not just a show, it's an experience!
---
General Information
PACE Center Box Office
& Art Gallery Hours
Mon. – Sat., Noon – 5 p.m.
90 minutes before performances 
The Schoolhouse Hours
Mon. – Thurs., 9 a.m. – 4 p.m.
90 minutes before performances
---
Quick Links
---
Ticketing
PACEtickets@parkeronline.org
303.805.6800
Due to fire code and safety requirements, every child MUST have a ticket without exception.
Please note that there are no refunds, credits or exchanges once tickets are purchased.