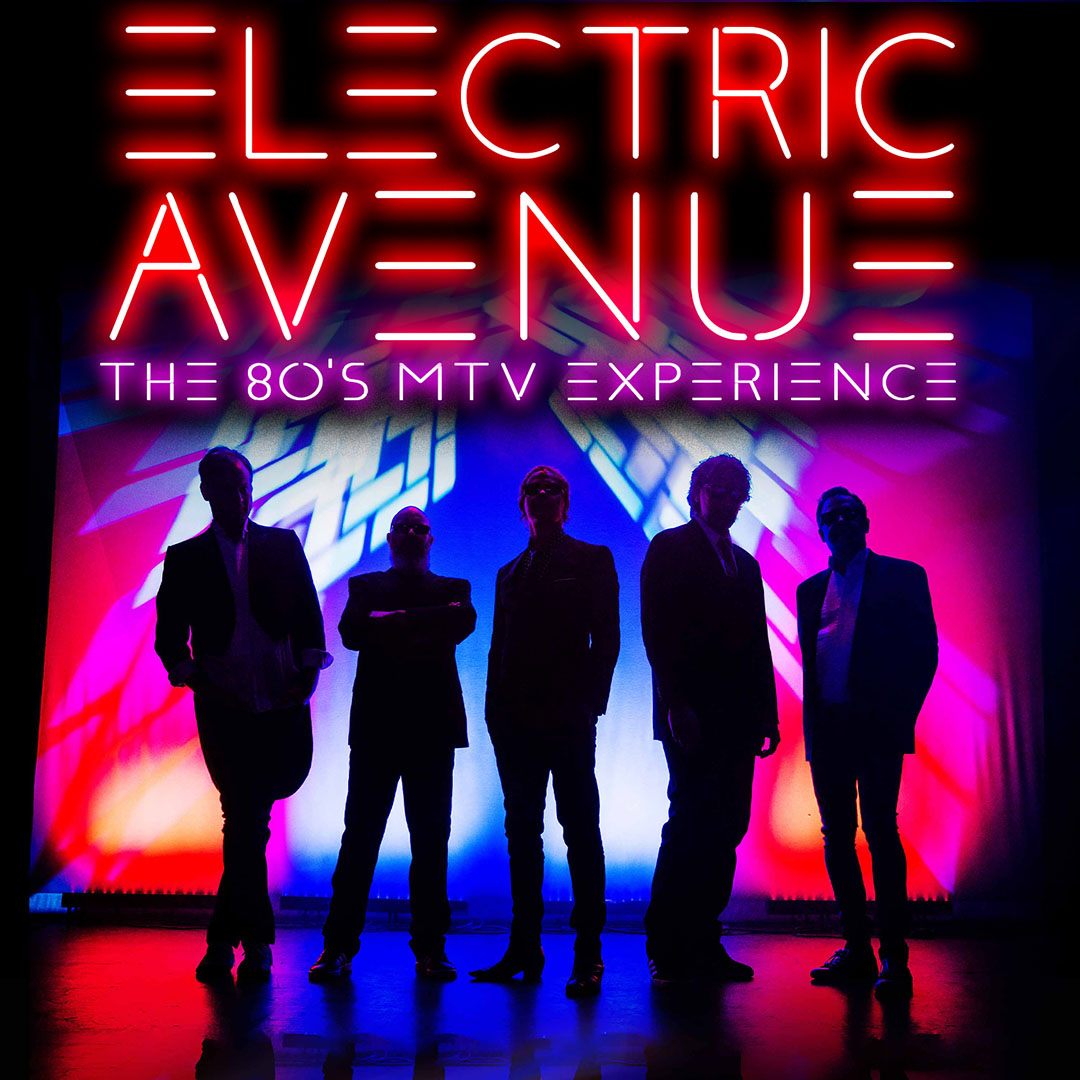 Electric Avenue: The 80's MTV Experience
Friday, March 1, 2024
All Ages
---
8:00 p.m.
PACE CENTER | 20000 PIKES PEAK AVENUE | PARKER, CO 80138
Electric Avenue: The 80's MTV Experience
What if you could experience all the youthful energy and sonic celebration that was 1980s New Wave & Radio Pop? Every sound. Every nuance. Every time. That's Electric Avenue. The Best 80s music hits performed the way you remember them.
"If you close your eyes, it's 1985. This band is unbelievable!"
ABOUT
What started out as a one-off party gig has turned into a decade-long run, playing 100+ live concerts each year across the US and abroad.
An Electric Avenue show is a high energy space that reminds people of a time when they came home from school, put a record on, and listened with open ears and an open heart, conjuring first dates, first cars, prom nights, weekend movies, and meeting friends at the mall, while finding a sense of fashion and an identity all their own. At an EA show, 80's music is as alive and well today as it has ever been.
If authenticity is your thing, Electric Avenue meticulously and painstakingly recreates every nuance and flavor of your favorite 80's songs. Delving into their personal stash of vintage synthesizers and rare signal processors, an Electric Avenue show is a true labor of love.
In fact, Electric Avenue's sound is so close to that of the original artists that in 2019 Warner Music issued a cease-and-desist for using original artists recordings on their social channels. After hearing the complete live recording of Electric Avenue's performance, Warner Music issued an apology to the band.
Electric Avenue has sailed the high seas with the The Walking Dead cast, Kid Rock, The Impractical Jokers, Joey Fatone, and Pitbull. In 2019, EA was hand-picked and flown to Asbury Park, NJ to provide the soundtrack for the red carpet launch of the Bruce Springsteen, Gurinder Chadha (Bend it Like Beckham), New Line Entertainment 80's-centric film, Blinded By The Light. They have had the privilege of being direct support for 80's legend Pat Benatar and have been joined on stage by, among others, members of Toto, Player, Talk Talk, and Little River Band.
As artists, the musicians in Electric Avenue have had a hand in the sale of over 15 million albums worldwide.
If namedropping is your thing, you may have seen or heard these guys with: Lionel Richie, Paul Simon, Idina Menzel, Daniel Lanois (producer for U2, Peter Gabriel), Brian Blade, Emmy Lou Harris, B-52s, Little River Band, Michael Malarkey (Vampire Diaries), Zac Brown Band, Player, RENT (our singer played Roger Davis from 2001-2004), Paula Cole, Tracy Chapman, Bobby Kimball (Toto) Kristian Bush (Sugarland), Shanice, Edwin McCain, Robbie Dupree, Rita Wilson, Lindsay Ell, Boston, Collective Soul, Mother's Finest, Sister Hazel, Yanni, Boyz II Men, and more.
Every sound. Every nuance. Every time.
---
General Information
PACE Center Box Office
& Art Gallery Hours
Mon. – Sat., Noon – 5 p.m.
90 minutes before performances 
The Schoolhouse Hours
Mon. – Thurs., 9 a.m. – 4 p.m.
90 minutes before performances
---
Quick Links
---
Ticketing
PACEtickets@parkeronline.org
303.805.6800
Due to fire code and safety requirements, every child MUST have a ticket without exception.
Please note that there are no refunds, credits or exchanges once tickets are purchased.