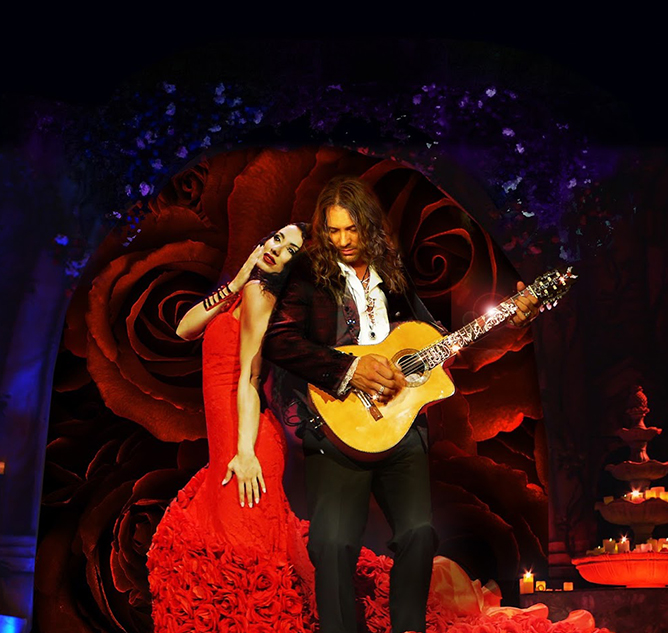 Benise
Saturday, FEB 26
All Ages
---
7:30 p.m.
The PACE Center
20000 Pikes Peak Avenue
Parker, CO 80138
Benise - "The Prince of Spanish Guitar"
Rarely is an artist as capable of touching the hearts and souls of people of all ages, cultures, and diverse musical backgrounds. Benise (pronounced Buh-nes-say) shattered the mold of Spanish guitar by combining music and dance – the only show of its kind!
2021 marks the year that Benise, "The Prince of Spanish Guitar," debuts his 5th national PBS special Strings of Hope and launches his 20th Anniversary Tour. Armed with his Spanish guitar and a stage full of musicians and elaborately choreographed dancers, Benise takes the audience on a musical journey through Spanish Flamenco, Cuban Salsa, Brazilian Samba, Parisian Waltz, exotic drumming, and more!
The 20th Anniversary tour establishes Benise's Emmy Award winning show as one of the longest running global Latin-themed theatrical productions and solidifies Benise as America's foremost native-born ambassador of Spanish guitar.
'The Prince of Spanish Guitar'  – Dancing with the Stars
'Bennissimo!' – Chicago News
'Extreme Flamenco Fusion' – Screen India
For Benise, music has always been a journey. From his humble beginnings as a street performer, to being featured on the #1 rated show in the USA – Dancing with The Stars, and performing around the world. "I wanted to push the boundaries of Nuevo Flamenco/Spanish guitar while combining the elements of dance and theater. This show is a celebration of all the shows we've done over the last 20 years," comments guitarist and creative force behind the event, Benise.
The Emmy Award-winning composer, along with an international cast of musicians and dancers, will entertain audiences with a two-hour show that "is an escape from all of their problems," Benise says. "Much like the recent PBS special Strings of Hope, with this show I want to take the audience on an escape…to a beautiful Spanish courtyard filled with Flamenco dancers, stunning costumes, and fiery Spanish guitars.  Beyond the new material, BENISE says "the live show will incorporate some fan favorites from my street performing days and rock classics like Led Zeppelin's Kashmir and AC/DC's Thunderstruck."
'latest pbs sensation' – Chicago Courier News
'fiery entertainer' – LA Daily News
"spark of genius' – Denver Rocky Mountain News
---
General Information
PACE Center Box Office
& Art Gallery Hours
Mon. – Sat., Noon – 5 p.m.
90 minutes before performance through intermission
---
Mask Update
---
Ticketing
PACEtickets@parkeronline.org
303.805.6800
No refunds or exchanges