PUBLIC ART EXHIBITS
The Town of Parker believes that the permanent placement of art in public places serves to enrich, stimulate, and enhance the aesthetic experience in the Town. Public art also contributes to the Town's economic draw and is an ongoing educational tool for the community.
Jacks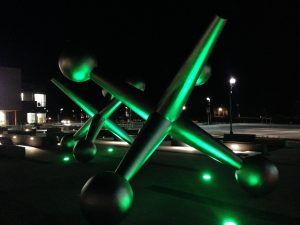 The first public art installation in Discovery Park is the larger than life, iconic "Jacks" by Christopher Weed, which will act as a beacon and a gateway to downtown Parker. This sculpture, like the park itself, speak to a simpler time of connections to friends, family and community.
ManEater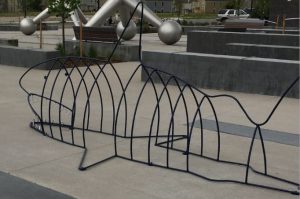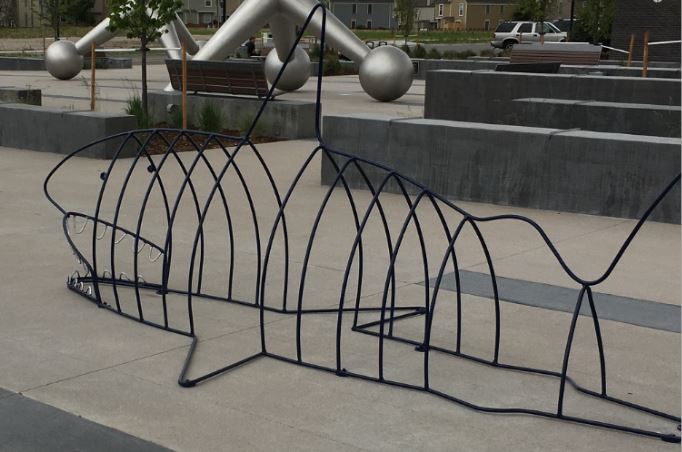 Following suit with the trend of combining utility with beauty, "ManEater" by Jim Choate, is a welded steel shark that doubles as a bike rack. Man Eater was intended to give the viewer an up close and personal idea of the average size of a young adult Great White Shark. Please feel free to park and lock up your bike in the belly of this predator before exploring Discovery Park.
Harmony Park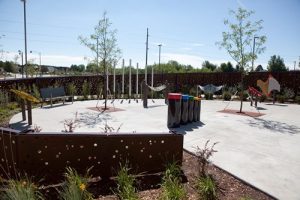 Harmony Park Musical Classroom is an interactive public art exhibit installed on the PACE Center's East Patio. Harmony Park was created by the Freenotes Company of Hesperus, Colorado. These outdoor wind and percussion instruments are weatherproof and designed to be played together easily because they are tuned to the pentatonic scale. There are no wrong notes, all of the sounds are harmonious and knowledge of music, keys or scales is not necessary. The sounds are mellow and ethereal so as not to disturb others. All instruments are wheelchair accessible, and they can even be a tool for music therapy to improve cognitive ability, communication and motor skills.
Nucleus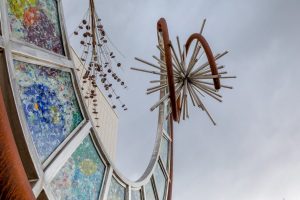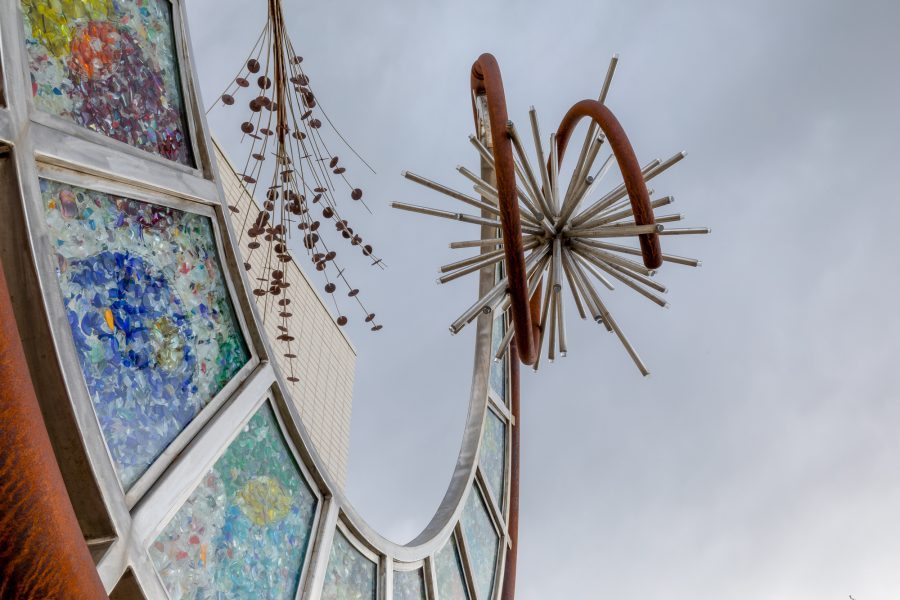 "The Nucleus" by Tim Upham of Fort Collins was installed in front of the PACE Center in May 2012. The 24-foot tall multi-colored spiral fuses art with science and is lit by halogen and LED lights. Upham makes site-specific public art and he has incorporated some of the leftover building materials from the PACE Center construction into the sculpture.
The Dance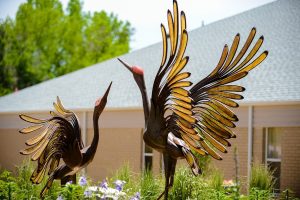 This sculpture by Lee Proctor is inspired by the spring time dance of the Sandhill Crane. It is also a celebration of the incredible displays and rituals of all bird life. And beyond that it symbolizes the art of dance in all its myriad of forms, from ancient indigenous cultures dancing by the fire to modern day ballet. The sculpture was a public favorite of the 2014-15 Art Encounters exhibit and Town Council purchased it in May 2015. Its permanent home is now the plaza on the west side of The Schoolhouse.
Freedom Through Safety
In June 2010, artist Adam Schultz was commissioned to produce an innovative public art sculpture for the Town of Parker's new Police Station. Schultz's creation, "Freedom through Safety," features a life-sized bronze eagle in flight, held aloft 14 feet in the air on two vertical stainless steel pillars. One pillar represents safety and the other symbolizes strength. The base of the sculpture includes a "circle of hands" — tiles pressed with hand prints of local community members from young children to senior citizens, metaphorically representing the support and involvement of the community.
Dr. Heath
A bronze statue of Dr. Walter Heath, an integral character in Parker history, is displayed on the northeast corner of Mainstreet and Pikes Peak Place. Created by local artist Don Budy, this project was made possible by Parker Adventist Hospital, Dr. Heath's grandchildren, Edward V. Heath and Clair Heath Fink, David A. Van Landschoot and Stevan Strain.
Somewhere Down The Lazy River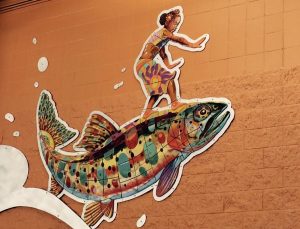 In 2015, artist Mario Miguel Echevarria won the commission to create a piece of public art for the Parker Recreation Center's new indoor Leisure Pool. Inspired by kids' love of animals and a desire to celebrate Colorado's native aquatic species, he created a three-part piece in which kid power is amplified by the uniquely amazing skills of Colorado's river and lake inhabitants. You'll find a boy flying with a Painted Turtle, a girl surfing with a Cutthroat Trout, and a girl riding on a Clark's Grebe. The works are crafted from ceramic tile and aluminum sheet. As the artist says "When people see a kid surfing on a fish the size of a VW Bug, they will never look at a trout the same way again!"
Colid #7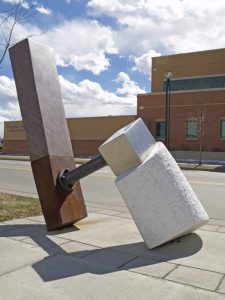 Denver artist Emmett Culligan donated his piece titled "Colid #7" to the PACE Center in 2013. The sculpture is placed on Pine Drive at the western entrance to PACE. Culligan's art often focuses on the manipulation of metal, wood, stone and glass, and references common forms found in everyday life. He says, "Within my work, an emphasis is placed on the natural inherent qualities of material interacting formally to access human emotion and spirituality."
Amber Eye
By Glenn Zweygardt
20000 E Mainstreet
In front of the PACE Center
Created by Glenn Zweygardt and located in front of the PACE Center, Amber Eye is a stone sculpture made from Vermont Granite: marble from Vermont and a dark granite base from Pennsylvania. The amber eye is made cast glass inside of a bronze cast ring. Please feel free to touch the various surfaces!