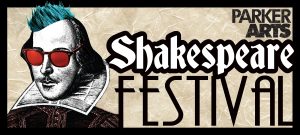 School Coordinator Responsibilities
Oversee the selection of groups, scenes to be performed, rehearsals, and costuming. These activities should be student-directed as much as possible, depending on student experience and skill level.
Schedule audition date, time and location for your school. In-school auditions will take place Feb. 1 through 17.
Conduct in-school communication, parent communication and permission forms.
Coordinate transportation to and from festival.
Collect student registration fees of $40 and T-Shirt size. Provide payment to Parker Arts in cash, check or credit card by March 22. Provide T-Shirt size once you receive T-Shirt order link from Parker Arts.
Provide overall supervision and coordination of the school's participating groups at the festival. Additional chaperones are encouraged.
Thank you for your commitment to coordinate your students in the 2023 Parker Arts Shakespeare Festival! 
Participation
Refer to the Participation Guidelines to begin coordinating student participants.
Judging
Review and share the Performance Evaluation Form and Rubric with your students.
Auditions
Complete the Entry Form and include audition dates in order of preference. Parker Arts will contact you to schedule in-school auditions. Download Audition Poster.
Student Registration
Registration fee is $40 per student and includes a 2023 Shakespeare Festival T-Shirt. Registration fees should be collected by School Coordinator and submitted to Parker Arts prior to March 22, via cash, check or credit card. Cash or check can be mailed or delivered to Parker Arts c/o Education, 20000 Pikes Peak Ave., Parker, CO, 80138. Credit card payments may be processed by calling Parker Arts Education at 303.805.3374.
Student Volunteer Stage Manager
Students may participate in the Parker Arts Shakespeare Festival as a volunteer stage manager. All volunteers will receive lunch. Interested students should complete a Volunteer Stage Manager Request Form online Volunteer Stage Manager Request Form or email completed PDF Form to PACEedu@parkeronline.org.
Transportation
To arrange for busing, please contact DCSD Transportation Department at 303.387.0415 or trip.usegroup@dcsdk12.org or one of the following charter busing companies. Students may have to rely on parent transportation.
Quick Links
Audition Poster
Entry Form / Entry Form PDF
Schedule of Events
Schedule of Stages
Individual School Schedule of Stages
Participation Guidelines
Performance Evaluation Form and Rubric
Volunteer Stage Manager Request Form / PDF Volunteer Stage Manager Request From