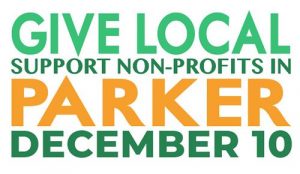 You're invited to Give Local!
December 10th from 7:00 am – 9:00 am (PACE Center – 20000 Pikes Peak Avenue)
Parker Arts is hosting Give Local, a second year event being held December 10th on Colorado Gives Day. Colorado Gives Day is an annual statewide movement to celebrate and increase philanthropy in Colorado through online giving. Give Local takes that idea one step further by giving the community the opportunity to stop by and meet some of the amazing local non-profit organizations that Parker Arts partners with throughout the year. The morning will include free breakfast and coffee.
If you would like to donate to Parker Arts, please do that here!
If you would like to attend, please sign up here:
Look below to find out more about the non-profits who will be attending.
Aging Resources of Douglas County
Aging Resources of Douglas County connects older people to vital services, information, and resources that promote aging with independence and dignity. We believe that the voice of every senior should be heard and respected and that the whole community should join together to support older adults in their golden years. Our Resource Navigation team connects people to resources that promote aging with independence and programs such as community services, transportation, housing, county grant programs and, caregiver support. Our volunteer program, called Neighbor Network, provides safety net services that help older people age in place. We provide transportation to medical appointments, to local errands such as grocery shopping or church or to visit loved ones. Volunteers serve as companions making visits in the home, chatting over the phone, going out to lunch, playing games, or doing crafts. We also have a team of volunteers who provide handyman chores, light housekeeping, or meal preparation. In addition to our volunteer services, our staff operates ADA compliant vehicles that transport our wheelchair riders to the places they need to go. Aging Resources promotes community awareness on aging issues through outreach, education, and our Intergenerational Program.
In 2018, Aging Resources provided 7292 rides, 2179 hours of help at home and 1124 hours of companionship.
Your support on Colorado Gives Day provides valuable support for our transportation program.  Aging Resources operates 2 ADA compliant vehicles and a mobility adaptive van to help seniors experience freedom and independence and get to the places they need to go.
Your support on Colorado Gives Day funds our Senior Smiles Program which brings educational letter outreach programs to school-aged children. Through this program, students practice kindness and understanding, while the seniors who receive their letters experience social connections they may not otherwise have encountered.
Click here to learn more about Aging Resources of Douglas County
American Legion Parker Post 1864
The American Legion is the largest Veteran organization in US.  We were founded by an Act of Congress in 1919 and are celebrating our 100th Anniversary.
Veterans who have served from Dec, 7, 1941 to present, are eligible to join the American Legion.
We are committed to mentoring youth and sponsorship of wholesome programs in our communities, advocating patriotism and honor, promoting strong national security, and continued devotion to our fellow service members and veterans.
We sponsor Parker Cub Scout Pack 363, Boys and Girls State, the American Legion Oratorical Contest, Legion Auxiliary, Sons of the American Legion, Legion Riders, Parker Adopt-A-Street and many area nonprofit organizations, as well as area veterans and families.
Click here to learn more about the American Legion Parker Post 1864
Council of Arts, Science and Culture
The Council of Arts, Science and Culture enhances the community through both direct and indirect influence. They coordinate community events and opportunities to enhance the areas of art, science, and culture in the Parker community and surrounding areas.
Current Needs: CASC is hoping to build relationships with individuals, businesses and organizations to further their reach into the community. Relationships might include partnering and volunteering to support events, or sponsoring the organization and its efforts to provide scholarships in the categories of Arts, Science and Culture. There are several ways an individual or business can get involved. Donations support the organization's efforts to support arts and science programs and host cultural events each year.
How do you work with the arts or Parker Arts: CASC supports arts programs in Parker including the monthly art walk, living history presentations and several community events. They are excited to continue to discover additional ways to support programs in our community.
Click here to learn more about Council of Arts, Science and Culture 
Cherry Creek Valley Rotary Club of Parker
The Cherry Creek Valley Rotary Club of Parker was chartered in June 2006. They are a local community group whose membership and goals are unique to their club and are based on supporting the local community of Parker Colorado and supporting the tenets of Rotary.
Current Needs:  Donations and/or sponsorship toward the fundraising and community events they host. The events are the Officer of the Year Luncheon which is recognition of police, firefighters and other first responders in Parker and Douglas County, Parker Brewfest, Trick-or-Treat on Mainstreet and the Achievement Luncheon.
How do you work with the arts or Parker Arts:  The club routinely holds events at the PACE Center including the Achievement Luncheon and the Officer of the Year Luncheon.
Click here to learn more about the Cherry Creek Valley Rotary Club of Parker.
Drifter's Hearts of Hope
Drifter's Hearts of Hope, a 501(c)(3) horse rescue located in Franktown, Colorado, has changed the lives of over 400 horses and over 300 families in the past five years. Through partnerships with organizations like the Right Horse Initiative, the EQUUS Foundation, and the Colorado Unwanted Horse Alliance, we have been able to greatly expand our reach and impact over the past few years, especially through our Annie Project. The Annie Project, founded by DHOH in 2017, allows dude and guest ranches to retire their horses directly to the rescue, circumventing the slaughter pipeline and allowing these horses a new lease on life. The goal is to create a lasting, symbiotic relationship with all members of the Colorado Dude and Guest Ranch Association, and to date we have partnered with eleven ranches and helped over 60 horses find their next careers.
While our adoption rate of 75% is impressive, the true power in that number is the success stories. We have hundreds of success stories, but some just stick with you, like the story of Maddy and Rocky. Rocky was born at Cherokee Park Ranch, an Annie Project partner. He developed asthma and unfortunately was no longer able to keep up with the challenges of ranch life. Cherokee Park Ranch made the decision to retire him to us, despite their affection for the dear horse, and asked that we find him the very best home. And that, we did. Rocky was adopted by a ten-year-old horsewoman and her family. They submitted a video for our Talent Show, which included Rocky picking up a feed pail, smiling, giving Maddy a hug, and her riding him around bareback in a halter, had just about the entire staff of Cherokee Park Ranch, Drifter's Hearts of Hope, and the general public in tears. It is those stories of the impact that just one horse can have on so many lives that make us better understand the incredible work that is the Annie Project.
Now that you've heard about the life-changing work that happens at DHOH, we would love to have you get involved. We have opportunities to sponsor, donate, volunteer, and more. Since we are exclusively funded by donations, grants, fundraisers and sponsorships. Every dollar goes directly to the horses.
Click here to learn more about Drifter's Hearts of Hope.
Dylan's Down with the Arts
Dylan's Down with the Arts is a 501c3 based out of Parker, Colorado.  The mission is to enrich the lives of individuals with special needs that have a passion for the arts. Their motto is …"because the arts are for everyone"! Leslie and her husband Stephen Secrist began the organization in 2010 because they were finding less and less creative outlets for our oldest son, Dylan, who has Down Syndrome. He was not into sports and always has loved singing, dancing, art, and photography so this started their journey! They never dreamed they would be involved with putting on theater productions, hosting art classes, leading Christmas Carolers, or coordinating with local organizations to do fun and creative workshops! The biggest thing they have learned from the individuals that they have the privilege of working with is…it doesn't matter if you think you aren't good at something, just try!
Current Needs:
$25  will provide photo processing for one workshop
$50 will provide classroom rental for one month
$100 will provide art canvases, paint, brushes for a full class
$200 will provide a scholarship for one lucky actor to participate in theater camp!
$2500 would sponsor the entire week for art or theater camp!
How do you work with Parker Arts:  In the summer, we host our two week-long day camps at the PACE Center in theater and mixed-arts.
Click here to learn more about Dylan's Down with the Arts
Inspire Theatre Company
Our Purpose
We exist to uplift, encourage, invigorate, and breathe life into every person.
Who We Are
We are an artist directed, non-profit arts organization with a heart to encourage individuals to discover their artistic talents, develop them in a safe atmosphere that encourages growth rather than ego and provides them with opportunities to use those talents through exceptional performances, education, and community.
Our History and Vision
In August of 2007 Inspire Creative, Inc. was founded with the goal of providing opportunities for all creative people to have a place to use their talents and grow in a safe atmosphere that places "people above program" and celebrates integrity and respect for others. To achieve this, Inspire Creative exists with a three-fold focus of performance, education, and community.
Current Needs:  Like most arts organizations, our biggest challenge is funding and continual support.  While ticket sales account for a good portion of our operating budget, we cannot meet all needs through ticket sales alone.Your support helps us expand our educational classes and maintain our goal of providing the best, most professional shows at the local level.
How do you work with Parker Arts: Inspire Theater Company is one of the producing partners for the theatrical season at ParkerArts.  We develop and present major musicals, and dramatic productions for each season.Together with ParkerArts, inspire Theater Company works on selecting the title of each production and puts together the season of shows that will be produced.Inspire Theater Company is responsible for casting, rehearsing, and contracting all musicians, actors, and performers.  We manage the building of sets and provide all costumes, and designers for each show.If you have seen any of the productions these last few years – Mary Poppins, Beauty and The Beast, Little Mermaid, A Chorus Line, Hairspray, Dairy of Anne Frank, A Streetcar named Desire, Laughter on the 2rd Floor then you have seen Inspire Theater Company's work!Together with ParkerArts, Inspire Theater Company brings the show to life on the stage!
Click here to learn more about Inspire Theatre Company.
Lutheran High School Performing Arts 
The Lutheran High Performing Arts program exists to provide exceptional experiences in theater and music through growth in Christ, growth as performers, and growth as individuals. We want students to have a Christ-centered environment where they can develop their gifts as musicians, dancers, actors and actresses, performers; we want students to be able to grow in their gifts and talents more than they could have imagined in their four years at LuHi.
Current Needs:  Without a performance facility of our own, our shows and concerts are held off site. In most cases, these performances are held at the town of Parker facilities including the PACE Center and Schoolhouse Theater. We are extremely blessed to have access to these professional venues but they do come at a significant cost in terms of rental fees and personnel. Through the contributions of individuals in the community, we want to continue to provide these high quality experiences in these excellent facilities.
How do you work with the arts or Parker Arts:  Lutheran High School has a wonderful relationship with Parker Arts. We regularly rent the PACE Center and Schoolhouse Theater for our performing arts events giving students the opportunity to be in a professional theater on a regular basis. We are also a business sponsor of Parker Arts which gives us the opportunity to partner with a wonderful arts organization in the Parker community.
Click here to learn more about Lutheran High School Performing Arts.
Parker Area Historical Society
Since its inception, the purpose of PAHS has been to share local history and culture with the community and to preserve as much of the material remains of Parker's past as possible. To achieve this, PAHS holds monthly meetings and lectures, as well as annual outings and events designed to educate the public about early frontier life. In addition to maintaining a museum (the Parker Heritage Center), we own and maintains Parker's only remaining log structure, the Tallman/Newlin cabin.
Current needs: To provide a cultural touchpoint for the Town of Parker's citizens and provide history education resources for people of all ages, we need members. There are various volunteer opportunities at different events during the course of the year.
How do you work with the arts or Parker Arts: Working with Parker Arts and other local organizations, we play integral role in providing the hometown feel that lies at the heart of the Town's mission, through our Walking Tours, the Parker Quest event, and tours for school and community groups.
Click here to learn more about the Parker Area Historical Society
Parker Arts
The mission of the Town of Parker Cultural Department, also known as Parker Arts, is to enhance local economic vitality and quality of life by offering unique gathering spaces and providing access to a wide variety of high-quality performances, exhibits, and educational programs in arts, culture, history and science.
Parker Arts manages four cultural facilities in the heart of Parker's historic downtown: the PACE Center, The Schoolhouse, Ruth Memorial Chapel, and Discovery Park amphitheater. In 2018, Parker Arts presented 158 diverse performances by national performing artists and local arts organizations, serving 47,500 audience members. In the summer, we hosted 8 free concerts in the park. In addition, we offered 470 classes and we hosted 50 theater rentals and 223 event rentals. We serve over 220,000 visitors annually.
Parker Task Force 
The Parker Task Force is dedicated to providing individuals and families in our community with food, limited financial assistance and other support services to help them become self-sufficient. These services are delivered with compassion, dignity and respect by our 100% volunteer staff.
Goal: To assist clients in reaching self-sufficiency, we offer 10 visits. At each visit a client meets with a staff interviewer to chart and assess a path toward success.  Clients average 8 visits.
Service to the Community:  Will assist over 500 local families in 2019.  Celebrating 32 years of services, trained and knowledgeable volunteers logged 20,295 hours of service.
Support from the Community: To stock the shelves of the food bank, 7 food drives were held in 2018 during which 72,275 food items were donated.
Special programs:  Seniors may visit the food bank twice a month.  Weekend food bags are delivered to local schools and are provided to students classified as homeless or are on the free lunch program.  Thanksgiving food baskets and Christmas Adopt-A-Family programs grow annually.
Needs:  Non-perishable food and personal care products for the foodbank as well as monetary donations
How Parker Task Force works with the arts:  Clients are encouraged to apply for Youth Experience Scholarships (Y.E.S.) which may be used for Parker Arts education offerings.
Click here to learn more about the Parker Food Task Force.
Parker Hospital Foundation
Did you know Parker Adventist Hospital is a Christian-based, nonprofit organization that has a Foundation? The Parker Hospital Foundation helps fund more than a dozen incredible programs that serve our community. Our annual Christmas Store makes the holiday season a little brighter for families struggling to afford gifts for their loved ones. Healing Arts provides music and massage therapy to patients. And our many injury prevention programs empower you with education on how to respond to emergency situations. These and many more programs are funded by generous donors. Would you like to learn more about these and other programs? Contact Rachel Robinson at rachelrobinson@centura.org to learn more!
Current Needs: Since 2011, Parker Hospital has provided The Christmas Store, which serves local families in need and provides them the opportunity to shop for Christmas gifts – at no cost – for their immediate family members at a special "store" that is set up within the hospital. In 2018, we provided Christmas gifts to 140 families! The need sadly, continues to grow. We take pride in serving our great community in this nonconventional way by bringing Christmas gifts to those who otherwise wouldn't be able to afford them. We work closely with our local schools to identify families who aren't receiving support from other organizations. The people who come through our "store" are truly in need.
How do you work with the arts or Parker Arts: Parker Adventist Hospital is a charter sponsor and supporter of Parker Arts.
Click here to learn more about the Parker Hospital Foundation.
Rosie's Ranch 
Our Mission at Rosie's Ranch is to Provide a welcoming therapeutic environment where children, with and without special needs, are able to connect with an equine partner and each other under the guidance of trained and qualified staff to build self-confidence, literacy and language skills through educational and equine-assisted activities.
Click here to learn more about Rosie's Ranch.
Rotary Club of Parker
The motto of Rotary International is Service Above Self, and the members of the Rotary Club of Parker direct their efforts to serving both the local community and international humanitarian efforts. We support a variety of local programs with both extensive volunteer hours and funding. The club, chartered in 1993, built the gazebo in O'Brien Park that has been a focus of community activities.
The Rotary Club of Parker Foundation is a 501(c)(3) organization supporting our humanitarian projects. Each year our Club raises funds through special events such as the State of the Town event and the support of businesses and individuals. Contributions to help fund our community projects may be sent to:
The Rotary Club of Parker Foundation
P.O. Box 1472
Parker, CO 80134
How do you work with the arts or Parker Arts: The Rotary Club of Parker is a charter sponsor and supporter of Parker Arts. The 2020 State of the Town event (February 2020) will be held at the PACE Center.
Click here to learn more about the Rotary Club of Parker.
SECORCares
SECORCares is a non-profit organization located in Parker, Colorado. They serve the residents of Douglas, Arapahoe, and Elbert Counties who are struggling to make ends meet, as a result of suburban poverty.
SECORCares is a non-profit organization located in Parker, Colorado. They serve the residents of Douglas, Arapahoe, and Elbert Counties (42 zip codes) who are struggling to make ends meet, as a result of suburban poverty.
SECORCares has a food market located in Parker, CO where guests can shop and receive free groceries. Additionally, they offer their guests resources like financial counseling, individual /family counseling, medical/dental aid, senior foot care, free hearing aids and more, with the ultimate goal of helping their guests on the path to self-sufficiency. SECORCares serves roughly 1700 families each month through their free food market, supports 23 local schools through the Food for Thought weekend backpack program, and has a free mobile food market they can take into high density locations and feed families. Learn how you can get involved at www.secorcares.com.
Current Needs: Financial contributions, volunteers looking to serve, local business partners to expand our reach to those in need.