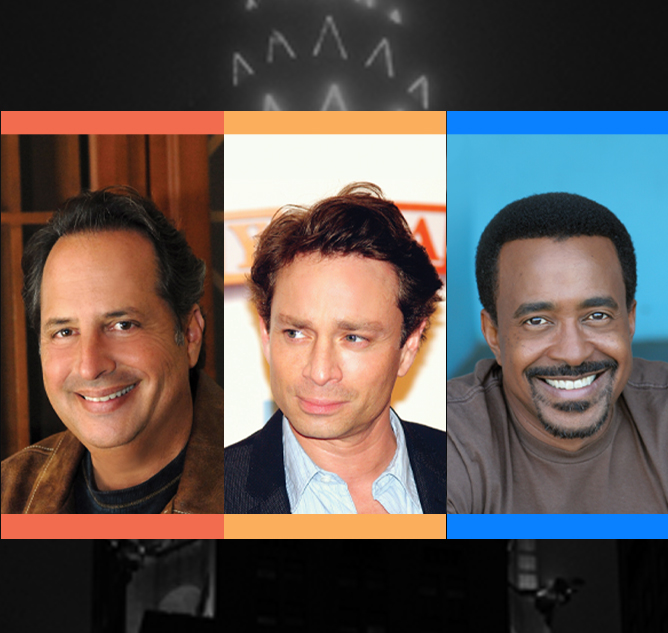 Veterans of SNL: Jon Lovitz, Chris Kattan & Tim Meadows
Saturday, NOV 13
Adults
---
7:30 p.m.
The PACE Center
20000 Pikes Peak Avenue
Parker, CO 80138
Veterans of SNL: Jon Lovitz, Chris Kattan & Tim Meadows
You're in for a night of laughs when beloved Saturday Night Live alums Jon Lovitz, Chris Kattan and Tim Meadows take the PACE Center stage with their hilarious stand-up comedy.
Parental Advisory: adult language and humor
About Jon Lovitz: Jon Lovitz has been one of the best known comedians for the last twenty years. He was nominated for an Emmy his first two years on Saturday Night Live, and while he was there he became known for his characters "Tommy Flanagan of the Pathological Liars Anonymous" ("Yeah, that's the ticket,") "Master Thespian," "Hanukkah Harry" and "the Devil." He has appeared in numerous films including Big, A League Of Their Own, The Wedding Singer, High School High, Small Time Crooks, Rat Race, The Producers, Eight Crazy Nights, The Benchwarmers, and Grown Ups, amongst others.
Jon has also appeared on Broadway at the Music Box Theatre in Neil Simon's play The Dinner Party, taking over the lead role from Henry Winkler. He has sung (yes, he can sing!) at Carnegie Hall three times (including Great Performances: Ira Gershwin at 100: A Celebration at Carnegie Hall) and sung the National Anthem at Dodger Stadium and the U.S. Open. He also sang with English rock star, Robbie Williams at the Royal Alpert Hall and appears on his album, Swing While You're Winning!
Additionally, Jon has had an illustrious television career. He was the first famous guest star on the hit show Friends. In the same week, he appeared on an episode of Seinfeld. Jon also had recurring roles on Hot in Cleveland, Las Vegas, Two and a Half Men, Hawaii Five-O and New Girl.
About Chris Kattan: Chris Kattan is best known as one of the longest serving cast members on NBC's Saturday Night Live. In the eight years Chris starred in the landmark late night program, he became best known for his characters 'Mango,' 'Mr Peepers' and one of the 'Butabi Brothers' opposite Will Ferrell which was such a hit that the sketch was adapted into the 1998 cult classic, Night at the Roxbury. Kattan went on to star in Corky Romano where he played the black sheep son in a family of mobsters and played the villain in the Malcolm D. Lee film, Undercover Brother, opposite Eddie Griffin. Kattan starred as a series regular in the ABC hit series, The Middle and recently had some memorable appearances in the Adam Sandler films Hotel Transylvania and The Ridiculous 6.
About Tim Meadows: One of the longest-running cast members in the 41-year history of Saturday Night Live, versatile comedian Tim Meadows crafted some of the series' most memorable characters during his 10 years on the popular late night show. Such characters included "Leon Phelps," "The Ladies' Man" and "Lionel Osbourne," host of the fictional public affairs show, Perspectives, as well as uncanny impressions of OJ Simpson, Ike Turner and Sammy Davis Jr. Meadows also played the school principal in the hit comedy Mean Girls and co-starred with Adam Sandler and Chris Rock in the blockbuster comedies Grown Ups and Grown Ups 2.  Tim also co-starred with Andy Samberg in Popstar: Never Stop Never Stopping for Universal Pictures, and in the Fox hybrid live-action/animated comedy from Chris Miller and Phil Lord Son of Zorn alongside fellow SNL alum Jason Sudeikis. He is a frequent recur on ABC'S hit comedy The Goldbergs.
---
General Information
PACE Center Box Office
& Art Gallery Hours
Mon. – Sat., Noon – 5 p.m.
90 minutes before performance through intermission
---
Mask Update
---
Ticketing
PACEtickets@parkeronline.org
303.805.6800
No refunds or exchanges
You may also be interested in