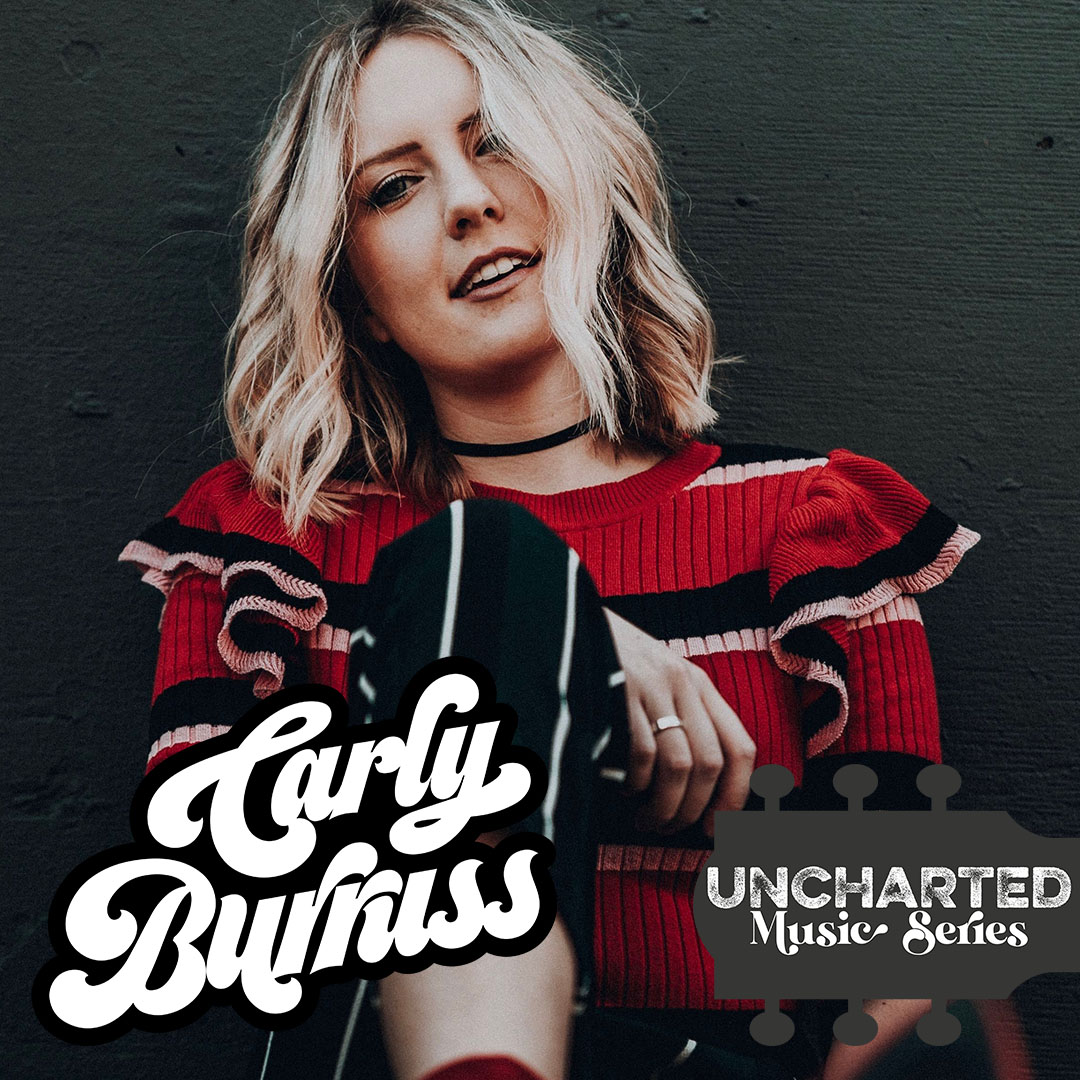 Uncharted Music Series: Carly Burruss
Saturday, August 27, 2022
New Series in 2022/2023
---
7:30 p.m. Concert time
6:30-7:30 p.m. Pre-concert dessert & drinks (must purchase separately)
THE SCHOOLHOUSE | 19650 MAINSTREET | PARKER, CO 80138
---
$29 for tickets (starting price)
$15 for dessert & drinks (ADD ON AT CHECKOUT)
Find Tickets
Uncharted Music Series: Carly Burruss
New face of traditional country music, Carly Burruss, kicks off our new Uncharted Music Series with the first concert of the 2022/2023 season!
You'll rarely see Carly Burruss without heels and a bandana tied around her neck. Her sassy but sweet music is a taste of old-school country with wit, humor and grit. Currently on tour, Carly has appeared onstage with country music superstars Dwight Yoakam, Keith Urban, Ellie Holcomb, Old 97's, The Band of Heathens, and Will Hoge. In 2017, Carly co-wrote the song "Puttin' on a Show" and it reached No. 1 for Cassidy Rae Gaiter in Australia. Carly also played the pre-game show for the Atlanta Braves and was runner-up in the country songwriting category of the Chris Austin Songwriting Contest at MerleFest in Wilkesboro, North Carolina. Her debut, self-titled album features catchy commentary on stubborn joy, female independence, strong faith and big hair.
Carly is performing at The Schoolhouse on August 27th, so be sure to grab your tickets and join us for this new-aged singer-songwriter with a traditional approach.
ADD ON DESSERT AND DRINKS AT CHECKOUT:
Each Uncharted Series event will feature a separate, pre-concert beer or wine flight paired with a locally sourced dessert that may be enjoyed in the lobby or near the firepit on our outdoor patio from 6:30 – 7:30 p.m. Simply add to your cart at checkout for an additional $15.
This event's featured items include Rubble Cookies (four different flavors per person: red velvet, oatmeal, chocolate chip and M&M) and a flight of four Colorado Native beers (Colorado Native Amber Ale 5.5%, Colorado Native West Slope IPA 5.5%, Colorado Native Mountain Pilsner 5%, and Colorado Native Wildflower Honey Helles Lager). 
Snacks and drinks will also be available for purchase at concessions prior to and during the concert.
---
General Information
PACE Center Box Office
& Art Gallery Hours
Mon. – Sat., Noon – 5 p.m.
90 minutes before performance through intermission
---
Mask Update
---
Ticketing
PACEtickets@parkeronline.org
303.805.6800
No refunds or exchanges
YOU MAY ALSO BE INTERESTED IN
Saturday, September 10, 2022
7:30 p.m.