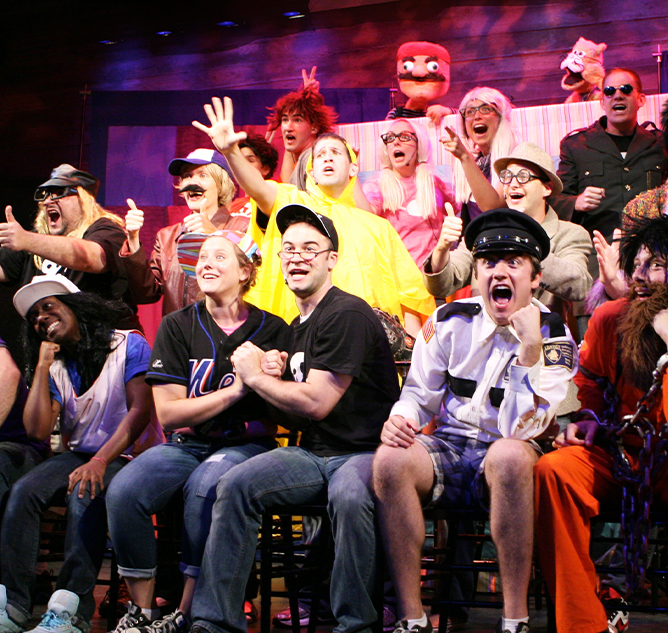 The Story Pirates
Tuesday, MAR 1
All Ages
---
6:30 p.m.
The PACE Center
20000 Pikes Peak Avenue
Parker, CO 80138
Set sail on the seas of imagination!
The Story Pirates aren't your typical swashbuckling sailors. They don't steal gold, pillage villages, or claim land. They're searching for a different kind of treasure: the wildest, most imaginative stories by kids. The crew aboard the Story Pirates ship—including world-class actors, comedians, improvisers, and musicians—takes original stories from real kids around the country and turns them into a wildly funny comedy performance. Most enjoyed by 3+
The Story Pirates celebrate creative writing by students from coast to coast in a loud, hilarious sketch comedy musical performed by professional improvisers and musicians. The show is based entirely on stories written by elementary school students, and part of the show is made up on the spot by the kids in the audience! Story Pirates will delight and surprise with puppets, enlivening songs and outrageous sketches, all the while motivating kids of all ages to pick up a pencil and write down their own fantastic adventures. Story topics run the gamut from kung fu ninja babies fighting crime to cats flying and spotted monsters who rule the world. Don't miss this one-of-a-kind show for all ages. You'll be rolling in your seats!
Story Pirates is a nationally respected education and media organization founded in 2003 to celebrate the words and ideas of young people. By pairing world-class teachers with first-rate actors and comedians, Story Pirates offers a variety of tools to make learning more engaging and effective. Dually based in New York and Los Angeles, Story Pirates are best known for the Idea Storm Program, a master-class writing workshop that brings teaching concepts to life, followed by a musical sketch comedy show featuring stories by students and performed by professional artists. Story Pirates acclaimed programs and professional development services for teachers are in place at over 250 schools from coast to coast. Their assemblies and performances have been recognized and sponsored by partners such as Penguin Books, theaters like the Kennedy Center in Washington D.C. and on television programs such as The Daily Show on Comedy Central.
Story Pirates' curriculum focuses on core elements of national standards Arts Education and English Language Arts, while providing rich cultural experiences that push the boundaries of traditional enrichment to tackle educational goals like vocabulary development, story structure, revision, and confident self-expression.
Story Pirates has invited tens of thousands of students to see their own words and ideas come to life on stage, and watched as, one by one, these children began to call themselves writers!
Funding for the Commission and its programs is provided by WESTAF (the Western States Arts Federation) and the National Endowment for the Arts.
---
General Information
PACE Center Box Office
& Art Gallery Hours
Mon. – Sat., Noon – 5 p.m.
90 minutes before performance through intermission
---
Mask Update
---
Ticketing
PACEtickets@parkeronline.org
303.805.6800
No refunds or exchanges