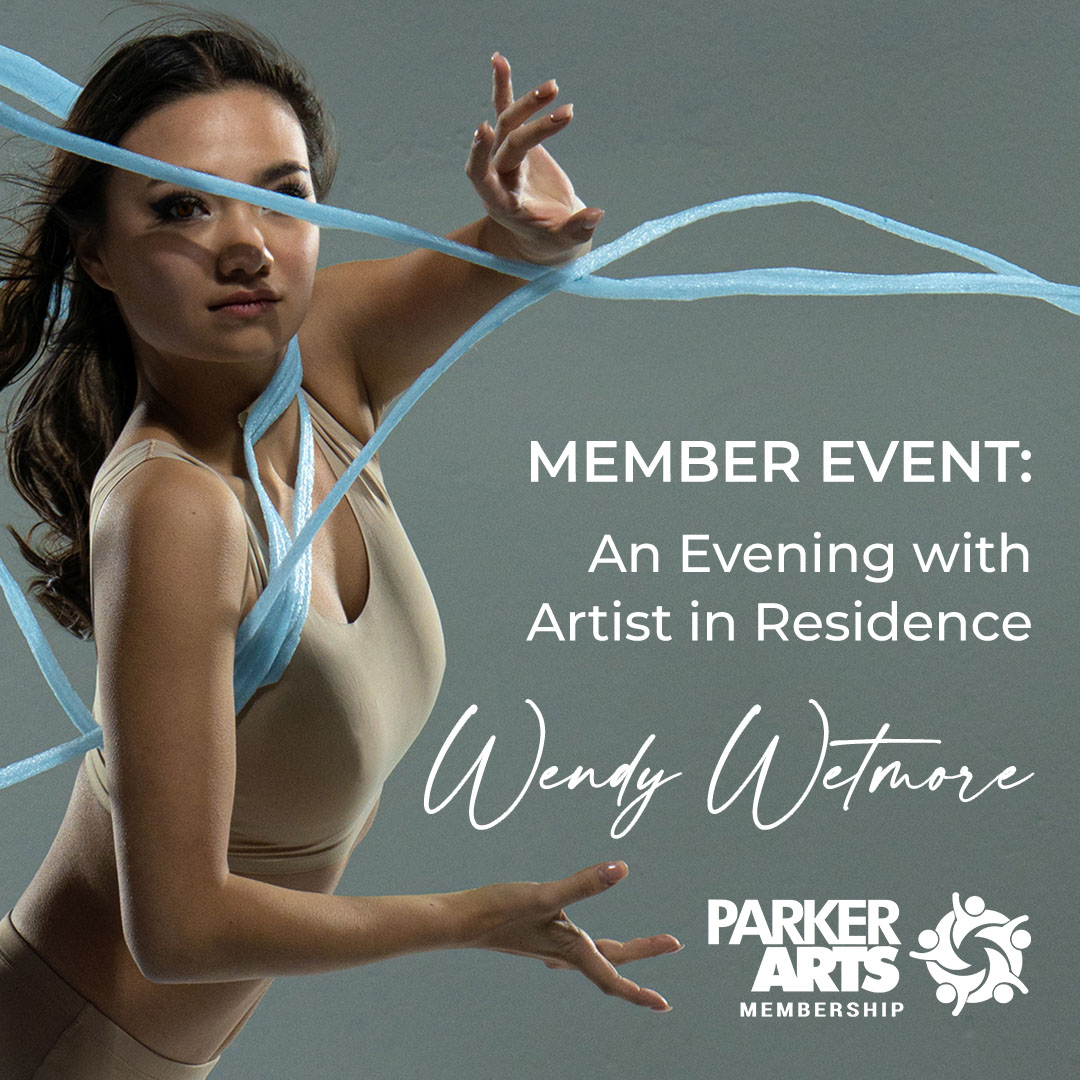 Member Event: An Evening with Artist in Residence Wendy Wetmore
Tuesday, March 7, 2023
Member Event
---
6:00 - 8:00 p.m.
PACE CENTER | 20000 PIKES PEAK AVENUE | PARKER, CO 80138
Member Event: An Evening with Artist in Residence Wendy Wetmore
Members are invited to spend an evening with Parker Arts Artist in Residence and photographer Wendy Wetmore as she shares samples of her work and describes her artistic process. 
Wendy Wetmore uses photography to isolate moments of stillness out of a body in motion. She works with dancers and choreographers to create images that define a thin slice of time – while a dancer moves. Objects which are airborne gain a sense of weightlessness and fluidity. Bodies in motion appear to do impossible things.
Wendy creates her own props which are custom designed for each concept and series.
In this class, she will present some of her work, describe her artistic process, and demonstrate how she works with a dancer, live, in the studio.
A graduate of the School of the Art Institute of Chicago, Wendy is the current Parker Arts Artist in Residence, with a studio in The Schoolhouse on Mainstreet. She has worked in the industry for more than twenty years and her client list includes Dance Aspen, South Dakota Ballet, Colorado Ballet, and Interweave Dance Theatre, to name just a few. She is a former dancer who still takes the occasional adult ballet or jazz class.
Wendy's approach as an artist is to explore a concept with her subject which usually comes about in a dream or dream state. Once the subject is engaged, she moves forward with planning, storyboarding and construction of props and costumes. Once preparations are complete, the session day opens, and she begins the magic. The more planning involved, the more opportunities for magic to happen! Wendy likes to connect and collaborate deeply with people and she considers their input an integral piece, vital to the work.
While listening to the presentation, members will have the opportunity to snack on ice cream and fries.
---
General Information
PACE Center Box Office
& Art Gallery Hours
Mon. – Sat., Noon – 5 p.m.
90 minutes before performance through intermission
---
Mask Update
---
Ticketing
PACEtickets@parkeronline.org
303.805.6800
Please note that there are no refunds, credits or exchanges once tickets are purchased.