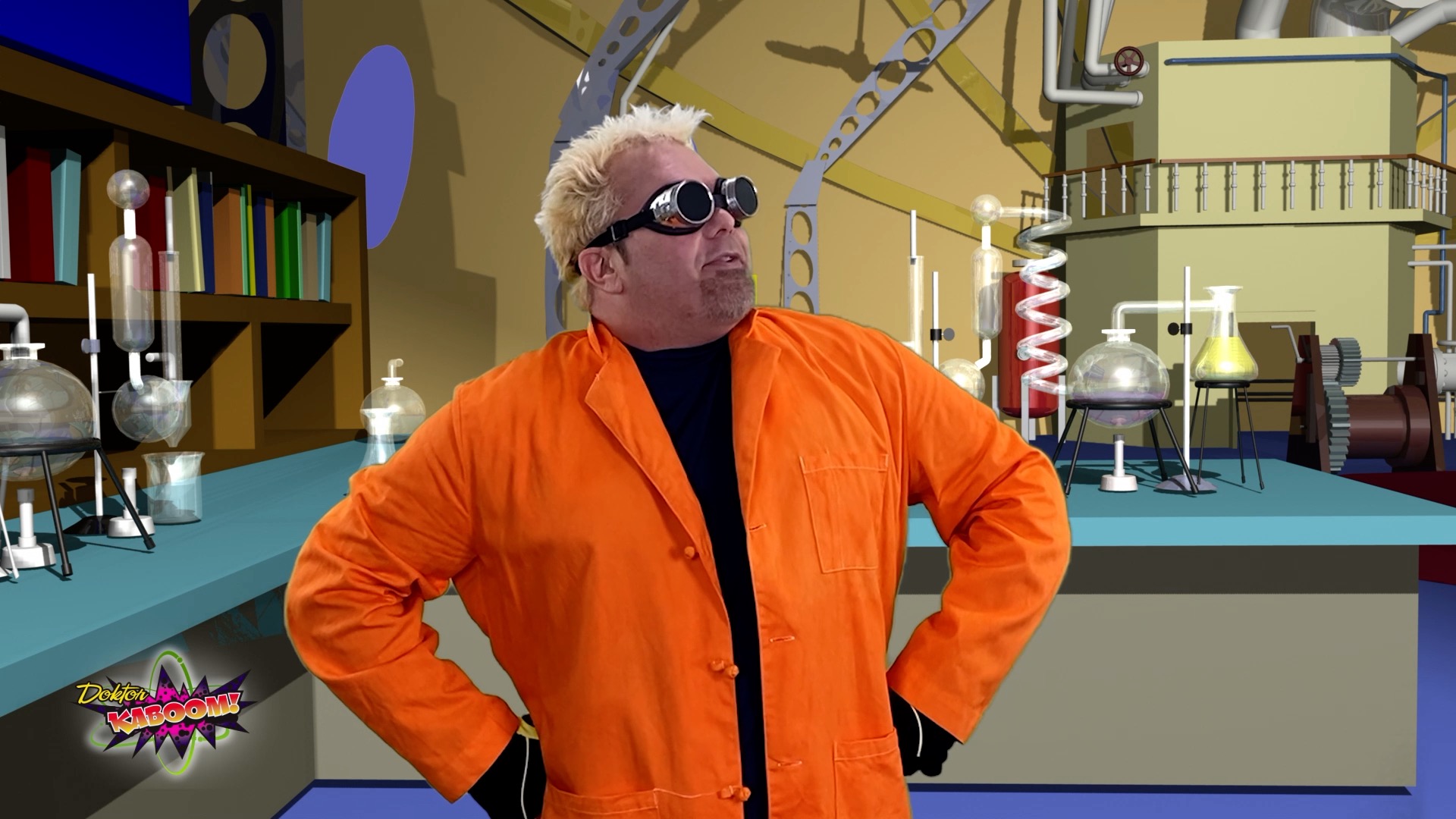 Doktor Kaboom: It's Just Rocket Science – VIRTUAL SCHOOL ENGAGEMENT
Now through June
Grades 3 - 8
---
Online Virtual Engagement For Schools
Doktor Kaboom: It's Just Rocket Science - VIRTUAL SCHOOL ENGAGEMENT
This student art engagement features three videos in which the Good Doktor explores newton's Laws of Motion. Referred to as "part Mr. Wizard and part Mr. Rogers," Doktor Kaboom uses the excitement of rocketry to present Newton's Laws of Motion. Each of Newton's 3 laws are clearly explained, comically explored in multiple over-the-top demonstrations, and followed by a DIY project that students can do as a class, in groups, or individually. 3 Laws, 3 lessons, 3 projects! Doktor Kaboom intersperses the lessons with discussions on safety and personal empowerment to bring home the point that "science is for everyone, not just the person who wins the science fair every year." This Arts Engagement ties directly to new science standards, includes printable materials for worksheets, discussions, and multiple student demos for each section. This is the perfect program for introducing or reviewing the physics of motion.
Grades: 3-8
Show: 32 minutes; three videos exploring Newton's Laws of Motion
Fee: $150 per school (payable to Parker Arts)
Available: February 8 – June 30, 2021
Contact Parker Arts atPACEedu@parkeronline.org to request your virtual order or click the button to "find tickets" and make your purchase online. A link and access password will be included in your email purchase confirmation from Parker Arts. Note to purchase tickets, you will be asked for a specific date due to our ticketing system, however you may use the link at any time between February 8 – May 9, 2021. This means that every teacher in your school may use this link at any time from now until May 9.
Curriculum Connections: Science: Newton's Laws of Motion, Practicing Safe Science; Theatre: Character Acting, Comedy; Social Emotional
Download the following materials:
Study Guide
Science Glossary
Lesson Plan
Rocket Science Overview
Newton's Second Law Practice Problems
A link and access password will be included in your email purchase confirmation from Parker Arts.
---
General Information
PACE Center Box Office
& Art Gallery Hours
Mon. – Sat., Noon – 5 p.m.
90 minutes before performance through intermission
---
Mask Update
---
Ticketing
PACEtickets@parkeronline.org
303.805.6800
No refunds or exchanges
Check out some other shows and events you might like!