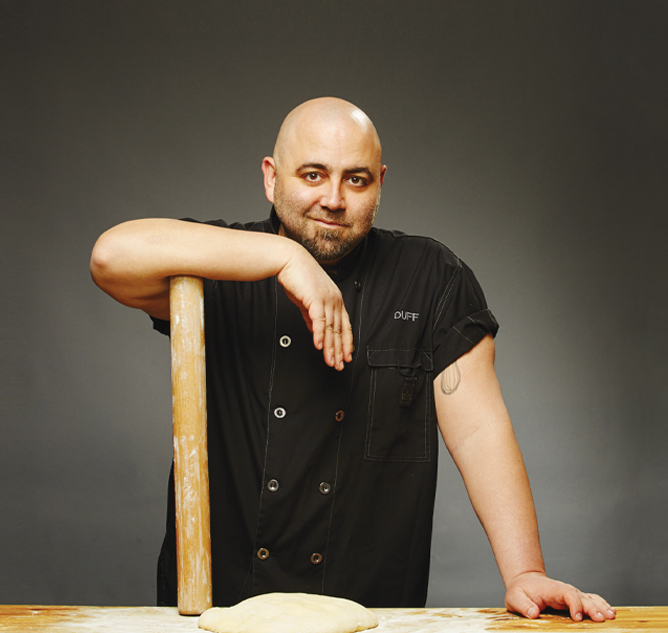 Cake Master Live: Demo with Duff
Friday, MAR 4
All Ages
---
7:30 p.m.
The PACE Center
20000 Pikes Peak Avenue
Parker, CO 80138
Cake Master Live: Demo with Duff
Food Network show Ace of Cakes and Charm City Cakes' Chef Duff Goldman speaks about his life and work, then performs a live demo showcasing some of his signature designs and delicious recipes.
Opening the night with a brief talk, Duff speaks about his life and work, and how a classically trained pastry chef and metal craftsman turned his unrelated passions into two internationally recognized cake shops, a bestselling cookbook, a wildly successful line of branded products, and eight network cooking shows.
Duff then turns the tables as he performs a live demo showcasing some of his signature designs and recipes. As Duff explains, he doesn't just make "pretty sculptures," but delicious cakes as well, with over 25 mouthwateringly unusual flavors. And it's not all sugar flowers, marzipan and tubs of fondant in this demo. Duff reveals how a cake master wields mallets, metal cutters, latex gloves, boba straws, Gorilla Glue, power drills, painters tape and drywall screws to make true confectionary masterpieces. With his unique tips, tricks, and tastes of Charm City Cakes, Duff brings viewers into the kitchen to learn some of the best ways to turn basic ingredients into works of art.
Duff Goldman is a chef and artist known for his dazzling, creative approach to food and his awesome stories describing the simple science of baking. Duff starred on the hit Food Network show Ace of Cakes, set in his bakery, Charm City Cakes. He now has cake studios in Baltimore and Los Angeles. You can watch Duff bake and decorate on Food Network's Duff Takes the Cake and mentor bakers on Kids Baking Championship. Duff believes we can discover our inner creativity and celebrate with each other through the fun of baking!
To learn more about Duff Goldman, CLICK HERE.
---
General Information
PACE Center Box Office
& Art Gallery Hours
Mon. – Sat., Noon – 5 p.m.
90 minutes before performance through intermission
---
Mask Update
---
Ticketing
PACEtickets@parkeronline.org
303.805.6800
No refunds or exchanges