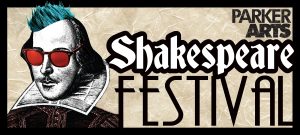 Frequently Asked Questions
If you cannot locate the answer to your questions within the Parker Arts Shakespeare Festival Packet, you may find the answers below. We encourage you to contact Parker Arts Education with specific questions at PACEedu@parkeronline.org.
Where can I obtain copies of Shakespeare's plays?
All of Shakespeare's works are in public domain, meaning they are not under copyright and can be used and copied at no cost. The complete collection of plays can be found online at http://shakespeare.mit.edu or http://www.folger.edu/shakespeares-works.
How should groups be chosen?
Due to the mission of the Shakespeare Festival, Parker Arts prefers all interested students be given the opportunity to audition. Therefore, school coordinators should encourage and accept any student entry. How school coordinators assist students in choosing play excerpts, schedule rehearsals, and prepare costumes is up to the individual coordinator. The Shakespeare Festival is intended to be student driven with minimal support from school coordinators. However, coordinators may consider studying a Shakespeare play in its entirety, and have groups perform scenes to enhance understanding, or allowing auditions to be a factor in student grades, etc.
What is meant by "Shakespearean English?"
Shakespearean English means Shakespeare's exact written words, with no adaptations or paraphrasing.  Shakespeare's original scripts must be used, not adaptations such as No Fear Shakespeare or other interpretations of his works.
How knowledgeable do students need to be about Shakespeare and his works?
Students in middle and high school may have a limited knowledge of Shakespeare and his plays. We highly suggest teaching a short unit on Shakespeare, or coordinate with a Language Arts teacher to do so. Even though students are only performing one scene from the play, it is important that they read the play in its entirety to understand how their scene and role fit into the total story.  Reading Minimized Shakespeare, Spark Notes or other online summary will suffice.  Try to include reading aloud and/or act out parts of the plays.  Shakespeare was meant to be performed and observed, and doing this makes it much easier to understand.
Should the actors use English accents?
Please do not attempt English accents. Americans performing Shakespeare do not use English accents.  Also, young people have difficulty maintaining accents throughout a performance, and mistakes might affect performance scores.
Where can I obtain costumes?
Performers must be in costume, but please do not rent costumes.  Costumes do not need to be elaborate or expensive. Many schools have a costume room with appropriate items or ones that are easily adapted. Thrift stores or students and their families may also have useful items. For example, if the performance takes place in the Shakespearean period, a simple long gown or skirt might be appropriate, or leggings and a large pullover with a belt. Creative costuming that fits the time period and/or concept is all that is required.
How much should the students do in planning performances?
Performances should be as student-directed as possible.  Obviously student involvement will vary from school to school, depending on student experience and skills.  Middle school students may need more assistance with choosing scenes, rehearsing, costuming, etc., while high school students involved in theatre and literature courses may be able to do all of the planning and coordination with minimal assistance from the School Coordinator. It is up to the School Coordinator to determine what is needed, involving students in these activities as much as possible. However, the School Coordinator must schedule auditions complete and return forms and arrange transportation.
Is it appropriate for students to see the evaluation rubric?
Absolutely! Definitely review the rubric with the students. It is important they know how and on what they will be evaluated.
May a student perform in more than one group?
No, due to limited space and time, students may only perform in one soliloquy or group
Will groups/soliloquies perform the same scene twice at the festival?
Yes. Groups/soliloquies will perform the same scene twice during the festival. Each performance will be evaluated and tallied for a total score.
Group/Soliloquy Selection Notification
Performance schedules listing performance times and stage locations for selected group/soliloquy will be sent to School Coordinators by February 26.
Student Registration
Registration fee is $40 per student and includes a 2023 Shakespeare Festival T-Shirt. Registration fees should be collected by School Coordinator and submitted to Parker Arts prior to March 22, via cash, check or credit card. Cash or check can be mailed or delivered to Parker Arts c/o Education, 20000 Pikes Peak Ave., Parker, CO, 80138. Credit card payments may be processed by calling Parker Arts Education at 303.805.3374.
Who is invited to attend the festival?
Parents, friends, school representatives, or anyone interested in Shakespeare or theater may attend. All guests are invited to attend The Bard's Prize Showcase from 5:00 p.m. – 6:00 p.m. on the main stage at no cost.
Will there be a place to store belongings (lunches, jackets, props, etc.)?
PACE Center cannot accommodate storage of personal belongings and recommend carrying expensive items such as phones, laptops, etc.
Quick Links
Audition Poster
Entry Form / Entry Form PDF
Schedule of Events
Schedule of Stages
Participation Guidelines
Performance Evaluation Form and Rubric
Volunteer Stage Manager Request Form / PDF Volunteer Stage Manager Request From