SAVE THE DATE:
Wednesday, March 22, 2023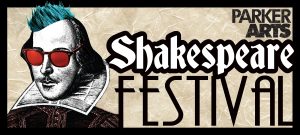 Overview
The Parker Arts Shakespeare Festival is a theatrical competition for middle school and high school students where students have the opportunity to perform a scene or portion of a scene from a Shakespeare play or a soliloquy of their choosing and be evaluated by expert judges. The students with the highest scoring performances will take the mainstage to perform their scenes in front of a peers, family and friends.
Teacher-selected group scenes and individual soliloquies will be invited to participate in the festival. Registration fees will be collected by the school coordinator and submitted to Parker Arts Education. Registration fee per student is $40 and includes a 2023 Shakespeare Festival T-Shirt.
Parker Arts' mission in offering a Shakespeare Festival is to:
Increase appreciation and understanding of Shakespeare works;
Provide an opportunity for youth to perform;
Foster community creativity and engagement; and
Generate awareness of Parker Arts education and enrichment opportunities.
We look forward to seeing everyone in March 2023!
Participate in the 2023 Festival