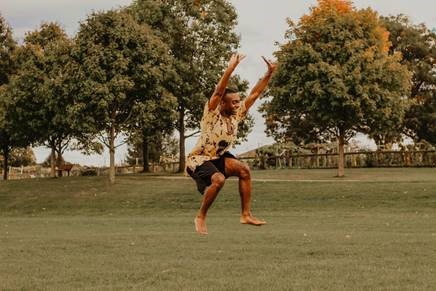 West African Dance (#35676)
May 17 – June 28 (no class May 31)
Ages 12+
---
Mondays, 7:45 p.m. – 8:45 p.m.
PACE Center
20000 Pikes Peak Ave.
Parker, CO 80138

---
$75 for Resident
$82 for Non-resident
Register
West African Dance
Africa, with its diverse people, languages, and history has a rich cultural foundation that includes many artistic elements including music, dance, folk tales, poems, graphic/plastic arts, mask making and more.  According to Lynne Emery, author of Black Dance in America, "music and dance are two of the most highly developed of the arts and the complexities of African rhythmic structure. . . dance is a fundamental element of African aesthetic expression that historically was recreational and secular, but in one form or another pervaded all of African life." This dance class provides a full-body workout while giving you the freedom to express yourself and learn about the powerful beat of West African traditional music. Classes consist of an energetic warm-up and then learning of traditional West African dance choreography (sometimes with a jazz infusion). This class is for someone looking for a fun way to keep fit as well as enjoy an invigorating cultural experience. Most dances taught originate in Guinea, and some from Ghana, Senegal, Mali and Burkina Faso.
Dress-code: Wear comfortable clothing with bare feet (or dance shoes), and be ready to sweat. Women typically wear lappas, so investing in one of those is encouraged (you can even use a large scarf or a wrap skirt).
Class code: 35676
Dates: Mondays, May 17 – June 28 (no class on May 31)
Times: 7:45 p.m. – 8:45 p.m.
Class code: 35685
Dates: Mondays, July 12 – August 16
Times: 7:45 p.m. – 8:45 p.m.
---
Instructor
Inspire Theater Co.
---
Location
PACE Center
---
Class cost
$75 Resident
$82 Non-resident
Monday, May 17
7:45 p.m. – 8:45 p.m.
Monday, May 24
7:45 p.m. – 8:45 p.m.
Monday, June 7
7:45 p.m. – 8:45 p.m.
Monday, June 14
7:45 p.m. – 8:45 p.m.
Monday, June 21
7:45 p.m. – 8:45 p.m.
Monday, June 28
7:45 p.m. – 8:45 p.m.