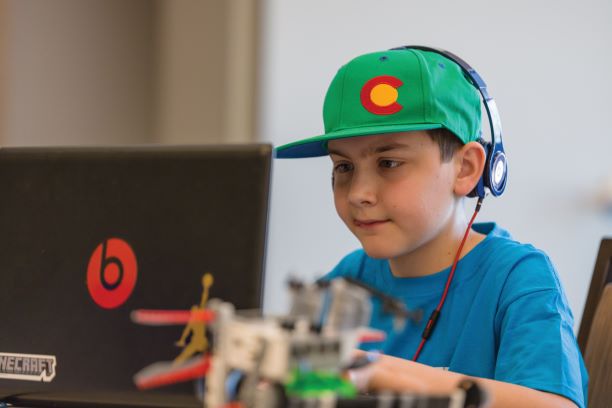 Creative Coding and Game Design with Scratch, Python, and Minecraft (#41094)
June 27 – July 1
Ages 7 – 12
---
M – F, 9:00 a.m. – 12:00 p.m.
PACE Center
20000 Pikes Peak Avenue
Parker, CO 80138
---
$300 for Resident
$330 for Non-resident
Register
Creative Coding and Game Design with Scratch, Python, and Minecraft
Come code with Athena! Our unique project-based camp is designed to allow campers to develop their creative storytelling or game designing abilities, and then bring them to life through using MIT's block-based Scratch, and Python through Minecraft Educational Edition. Campers have a blast, and learn professional programming practices, like how to use binary operators, conditional statements, sequencing and commenting practices, and loops. Through this, we hope to expose them to programming in a creative, fun, and innovative way! Students will need to bring their own device from home to use throughout the week. An iPad, Chromebook, or any kind of laptop computer will work well for this camp. $40 rental fee available.
---
Class Code: 41094
Dates: Monday – Friday, June 27 – July 1
Time: 9:00 a.m. – 12:00 p.m.
---
Instructor
Athena Coding
---
Location
PACE Center
---
Cost of Class
$300 R/$330 NR
Monday, June 27
9:00 a.m. – 12:00 p.m.
Tuesday, June 28
9:00 a.m. – 12:00 p.m.
Wednesday, June 29
9:00 a.m. – 12:00 p.m.
Thursday, June 30
9:00 a.m. – 12:00 p.m.
Friday, July 1
9:00 a.m. – 12:00 p.m.