STEVEN YAZZIE (1970)
Born in Newport Beach, CA, of Navajo and Laguna descent, Steven Yazzie creates paintings, videos, and installation art. When he was four years old, his family moved to an Arizona reservation in Black Mesa. He later joined the Marine Corps and served in the Gulf War, in Desert Storm and Desert Shield. When he returned, Steven discovered that his paternal grandfather had participated in World War II as a code-talker. His grandfather has inspired and been included in many pieces. Steven earned his BFA in Intermedia from Arizona State, and was named an outstanding graduate from the Herberger Institute for Design and the Arts.
At a residency at the Skowhegen School of Painting and Scupture, ME, Steven conceived and crafted his performance, drawing and film piece, Drawing and Driving. He built a wooden cart with an easel that allowed him to draw while driving. He has since built other carts, which he has taken to places such as Monument Valley where he would try to replicate the landscape while in motion. He filmed the rides which, when displayed, gave viewers the frenetic sensation of experiencing the ride while trying to see the land and document it all at the same time.
Steven heads up Digital Preserve LLC which serves as an extension of his art practice where he collaborates with other artists, filmmakers, and interdisciplinary creative to produce meaningful digital content and stories, with a focus on indigenous people and issues. And he has created documentary shorts for the Heard Museum and the Denver Art Museum. Currently, Steven has returned to the easel, where he started years ago, to explore notions of heritage and humankind's relationship with the land.
His work has been shown in the National Gallery of Canada, Ottawa, the Museum of Modern Art, NY, the National Museum of the American Indian, the Museum of Contemporary Native Art, Santa Fe, the Heard Museum, the Phoenix Museum, Arizona State University Art Museum, Scottsdale Museum of Contemporary Art, and the Tucson Art Museum. He is the recipient of the Joan Mitchell Award, National Endowment for the Arts grant, as well as an Artist Research and Development Grant from the Arizona Commission of the Arts.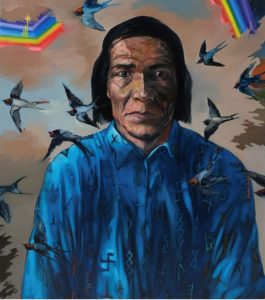 Broken Rainbows
Oil on canvas
48 x 42 inches
See Other Artists:
Norman Akers
Corwin Clairmont
Joe Feddersen
Sonya Kelliher-Combs
Anna Hoover
Linley Logan
Cara Romero
Diego Romero
Jaune Quick-to-See Smith
Neal Ambrose Smith