NORMAN AKERS (1953)
Norman Akers actively seeks to engage people to examine important issues through his art. He addresses the topics of personal and cultural survival, removal, disturbance, and the struggle to reclaim cultural context through the visual dialog of color, line, and form.
"As a Native American artist, I explore issues of identity, culture, Osage mythos, place, and the dynamics of personal and cultural transformation. Over the years I have used a visual vocabulary consisting of images and symbols drawn from my cultural heritage, personal life experiences, and contemporary culture. The underlying principles that inform my art include tribal oral histories, maps, art historical references, and nature. Through visual narrative, I explore how my point of view relates to a historical, political, and cultural sense of place in contemporary society. The use of narrative in my work acts as a continuation of the Native American storytelling tradition. Ancestral tribal stories and sayings explained the world in which we lived. New and emerging stories serve as allegories of transformation in an ever-changing world."
A primary concept explored in Norman's work is the sense of place. "History has left its mark on the land," he said, "creating a place where political and cultural boundaries define our identities." For Norman, maps have long fascinated him as complex symbols defining boundaries and landmarks of the place we identify as home. But too, as tools used to deceptively create false borders and re-write history.
His work layers visual images that seem to coexist without any clear hierarchical order to convey a non-linear sense of time. In so doing, they become a metaphor for the experiences he encounters when at home in Oklahoma or traveling across ancestral lands in Kansas, participating in the E-lon-schka ceremonies, and just simply living.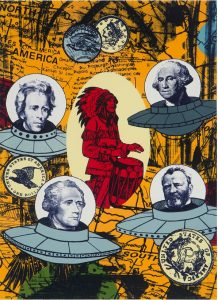 Alien Conquest   
20.5 x 15 inches
Lithograph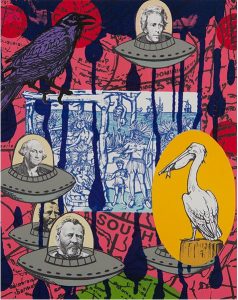 Dark Reign
18.75 x 15 inches
Lithograph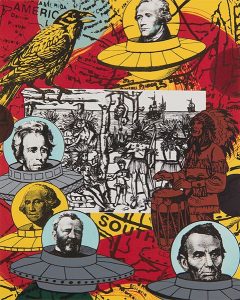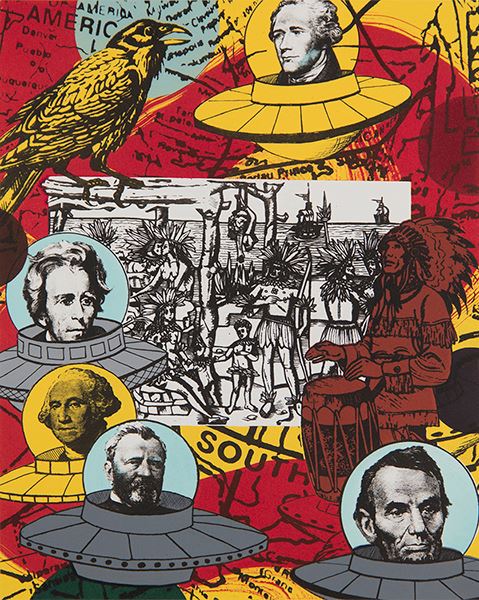 Uneasy Welcome
20.75 x 16.5 inches
Lithograph
See Other Artists:
Corwin Clairmont
Joe Feddersen
Sonya Kelliher-Combs
Anna Hoover
Linley Logan
Cara Romero
Diego Romero
Jaune Quick-to-See Smith
Neal Ambrose Smith
Steven Yazzie