Miller Lyle
Alternative Facts: Photography by Any Means
Artist Statement, 2021
"The [artist] can do no more than construct an image; he must wait for this image to come to life for other people."- Maurice Merleau-Ponty

Ancient Greek philosophers suggested that art was mimesis, an imitative representation which involves not only copy-making, but also creative interpretation. In other words, the value of a work of art should be judged by how accurately it imitates reality both in form and interpretation.

I can hardly explain how How to Smoke Fish came to fruition. At the pet store, I saw a dead fish floating in the tank and this was, as it seemed to me, the only logical result. In creating the photo, I was thinking about comparing a smoker's lungs to those of a fish out of water, but I soon decided to abandon this idea and take a step back. I thought the image's significance would be more compelling when my own voice remained separate so viewers could interpret it how they will and assign their own unique significance to it, a significance that is likely different than those of others. In doing this, my hope is the ambiguity of How to Smoke Fish will combine with the dichotomy between humor and solemnity to create alternative facts and insights that stimulate interaction beyond just art and viewer and encourage all who see it to consider the large spectrum of diverse outlooks and concepts that exist, bind, and divide us every day.

The power of photography lies in its ability to quite literally depict reality while acknowledging that an image is a result of one unique vantage point, thus creating a separate reality that is no less true than that of everyone else's perspective but is nonetheless entirely separate. This combination can make us look at the world and think in different ways.
On display March 1 – April 12, 2021 at the PACE Center Art Gallery: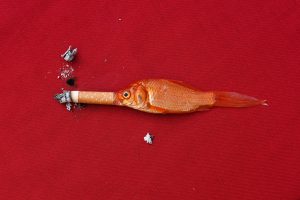 See more!