LINLEY LOGAN (1962)
Multidisciplinary artist, curator and author, Linley Logan grew up in the Tonawanda Seneca Nation. He attended the Institute of American Indian Arts, Santa Fe, New Mexico where he earned an AFA in Two Dimensional Arts and another AFA in Three Dimensional Arts and engaged museum studies. He went on to study ceramics at the Haystack Mountain School of Crafts, Deer Isle Main, then earned a degree in Industrial Design from the Rochester Institute of Technology for a BFA.
He has curated and co-curated contemporary Haudenosaunee (Six Nations Iroquois Confederacy) art exhibits, including "Iroquois Art in the Age of Casino's," Iroquois Indian Museum. He authored articles and presented cultural programing for the Smithsonian Institution. He has been a participating artist in International Indigenous Visual Artists' Gatherings in Hawaii and New Zealand. He believes strongly in serving on local and regional arts boards and working with youth to maintain traditional language studies. His own work is rooted in the traditional art forms—printmaking, painting, carving, silver jewelry, pottery and found art creations—but is conveyed through contemporary artistic expression.
His writing extends to traditional dance and indigenous internet implications. "Native American Dance, Ceremonies and Social Dance Traditions," was published by the National Museum of the American Indian, Smithsonian Institution, and "Dancing the Cycles of Life" published by the Festival of American Folklife was part of the social dance in the America's program for the Center for Folklife and Cultural Studies, Smithsonian Institution.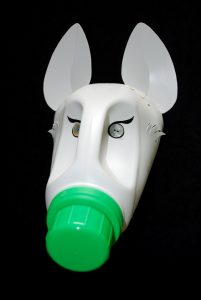 Coyote's Recycled Transformation
8 x 8 x 10 inches
Recycled plastic, nylon line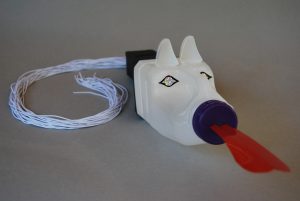 Wolf with Lipstick Rattle
3 x 4.25 x 47 inches
Recycled plastic, nylon line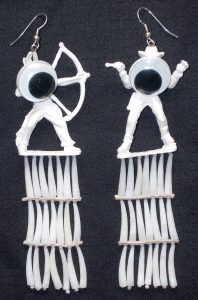 Toying with Stereotypes of Tribal Dada
3 x 5 inches
Recycled plastic, nylon line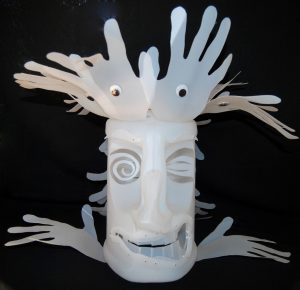 AlterNative Protector
21 x 18 x 16 inches
Recycled plastic, nylon line
See Other Artists:
Norman Akers
Corwin Clairmont
Joe Feddersen
Sonya Kelliher-Combs
Anna Hoover
Cara Romero
Diego Romero
Jaune Quick-to-See Smith
Neal Ambrose Smith
Steven Yazzie