Kuria Jorissen
Alternative Facts: Photography by Any Means
Artist Statement, 2021
Ever since I was young, I have followed my passions—taking photos whenever and wherever I could. I aimed to capture those fleeting moments, but also the natural beauty found all around us. After growing up camping, hiking, and spending my time in the wilderness with family, I found myself drawn to the sky. Throughout college, I was driven to capture the night sky alongside the Earth—to share with others what I saw in those nights out in the forests, and that drive became my thesis work. My thesis was just the tip of the iceberg.

Astrophotography involves constantly learning and many foiled attempts—the one lesson you learn quickly is to never trust the weather reports. Since graduating, I have studied new techniques for capturing and editing photos, planning tools, astronomy, and the lesser-known stories of the stars.

Through my work, I seek to express the stories beyond the well-known Greek Constellations—to bring people to that moment in the wild and show them the beauty of what lies outside the cities. Through this, I am also seeking to educate and encourage preservation of our natural lands and dark skies.
On display March 1 – April 12, 2021 at the PACE Center Art Gallery: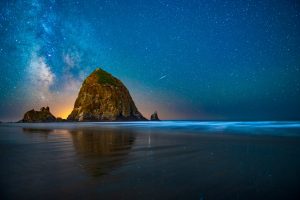 See more!