Juliet Haas
Alternative Facts: Photography by Any Means
Artist Statement, 2021
Marionettes and Other Ghosts of Vision celebrates the collaborative process between my Self and my Subjects. My love for film scenes and gritty cinematic locations inspires these environmental character portraits that reflect my own sense of longing, perhaps to be accepted, seen, and recognized as a strong, dynamic and often melancholy presence in my own life. The subjects become my character portraying one moment from my vision in each scene, as they tap into their own creativity to explore personas to fit my story. The story hints at what role these souls might have played in this space, the Ghosts of this seemingly haunted, former railroad employee hospital, rumored psyche ward, who are now forever lost in the palpable spirit of this abandoned place.
Sacramento based photographer and curator Juliet Haas is drawn to solitude and detritus, shape, light and darkness, dramatic weather and cinematic landscape. Her imagery focuses on finding the beauty hiding behind the light, on the edges of shadow, and evoking a sense of isolation. In isolation, she has always felt enveloped in the company of others. It is these isolated moments of dense emotion that inspire her vision.
On display March 1 – April 12, 2021 at the PACE Center Art Gallery: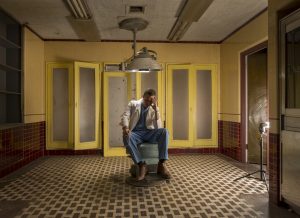 See more!